Stornoway skipper pleads guilty on sinking of Sapphire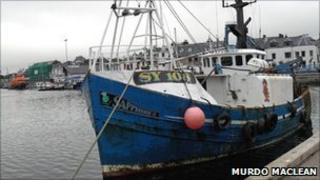 A fishing boat skipper has pleaded guilty to failing to keep a proper lookout, after a collision in which another vessel sank.
Skipper Murdo McDonald had left the wheelhouse of the Silver Chord II prior to the incident on 12 January 2011.
His boat struck the Sapphire, which was being operated single-handed by Roderick McLeod, which went down within minutes.
At Stornoway Sheriff Court, McDonald was fined a total of £1,000.
Roderick McLeod was able to jump safely onto the Silver Chord II. Both boats operated out of Stornoway.
The Maritime and Coastguard Agency (MCA) has said the collision indicates the importance of keeping a proper lookout.
Captain Singh Grewal, of the agency, said: "This was a breach of the International Regulations for the Prevention of Collision at Sea.
"The MCA is very concerned that operators of large fishing vessels such as the 'Sapphire' and 'Silver Chord II' are not maintaining a lookout whilst at sea. Keeping a lookout at all times is mandatory for seafarers on all vessels.
"No matter what systems the skipper has in place he must leave the wheelhouse to shoot and raise the nets and if you are operating a vessel single handedly, during this time there is no-one maintaining a lookout.
"This incident once again reminds all fishermen of the need to ensure that the skipper's primary responsibility is the safety of his crew and vessel."