Fuel discount introduced in Western Isles, Orkney and Shetland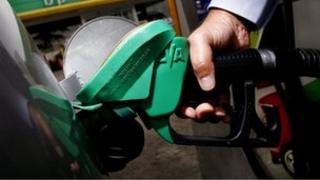 A cut in the price of fuel for motorists living on the Scottish islands has come into effect.
The government scheme is intended to cut the price of a litre of diesel or petrol by 5p.
The discount has come into force in the Inner and Outer Hebrides, Orkney, Shetland and islands in the Clyde, as well as the Isles of Scilly.
But there has been concern that price rises at many island petrol stations in recent weeks will negate its impact.
Danny Alexander, the chief secretary to the Treasury, said he was confident the initiative would make a real difference to people living on the islands, who face far higher fuel prices than motorists on the mainland.
Speaking to BBC Radio's Good Morning Scotland programme during a visit to Skye, Mr Alexander said: "People on islands like Skye, and other islands around Scotland, are people who face the very highest fuel prices, with often very little alternative but to drive very long distances for work. They are the people who are hit hardest by high fuel costs.
"This discount is something they have been able to do in other European countries but we were told by previous governments we couldn't do it here.
"Today 5p comes off a litre of fuel on the islands and it will make a difference. I'm not going to over claim for it, but it will make a significant difference, I think, to people who live in island communities."
Earlier this week, the Treasury warned oil suppliers against attempting to profiteer from the discount scheme after claims from some on the islands that fuel prices had increased by more than the 5p discount over the past few weeks.
Scottish Fuels, which is responsible for distributing petrol and diesel to the islands, has strongly refuted any suggestion the company had been seeking to boost profits ahead of the discount coming into effect, and insisted that any increase merely reflected the rising worldwide price of fuel.
Mr Alexander said: "If there is profiteering going on, that is truly appalling. I will certainly ask my officials to make contact with the people who have been complaining so we can look at whether or not that is what is going on.
"Of course this is a duty discount - it goes on top of whatever the base price is - and we are seeing volatility in certain parts of the world which is causing prices to change at the moment.
"So people can't expect that this discount wipes out the volatility of oil prices around the world, but it would be totally unacceptable if anyone was seeking to profiteer off this."
'Real questions'
Earlier this week, Alistair Carmichael, the Lib Dem MP who represents Orkney and Shetland, told BBC Scotland he had received evidence from Shetland that "a local garage had the price they were required to pay put up 2p per litre this week and 3p per litre last week".
When asked if that meant there would be no difference in the price paid by motorists, he said: "That's the danger."
However he insisted the scheme would "have an impact for people as long as everybody plays fairly and honourably".
Angus MacNeil, the SNP MP for the Western Isles, said fuel prices had already "increased by the equivalent of the discount over recent weeks".
He added that the average cost for petrol and diesel had gone up by almost 20p a litre "since Danny Alexander first mooted the idea of a discount scheme".
The Nationalist argued: "There are clearly real questions over whether people will feel the benefit of the discount.
"It is simply unacceptable that in energy-rich Scotland, motorists and businesses are struggling to cope with prices at the pump. These record fuel costs are putting a huge and unnecessary amount of pressure on our communities and on vital sectors of the Scottish economy."