Scottish Prison Service appoints new chief executive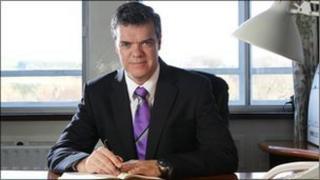 The current head of Northern Ireland's prisons has been appointed to take charge of Scotland's jails.
Colin McConnell, 51, will become chief executive of the Scottish Prison Service (SPS) on 28 May, with a salary of about £110,000.
Mr McConnell was hired to lead radical reform in Northern Ireland after the service there was heavily criticised in inspection reports.
The SPS is currently headed by chief executive John Ewing.
Mr McConnell, from Edinburgh, began his career in the SPS as a prison officer before joining the assistant governor training programme.
He was assistant governor at Glenochil Prison from September 1986 to 1989 and then spent three years as management development officer at the SPS College before moving to HM Prison Service for England and Wales in 1992.
Mr McConnell was promoted to his current role in the Northern Ireland Prison Service in January 2011.
More than 550 prison officers in Northern Ireland have applied to take up a redundancy package offered as part of the reform programme.
About 150 of those will leave at the end of this month, with the service set to hire 200 new custody officers.