Scotland's newest jail, Low Moss, gets first prisoners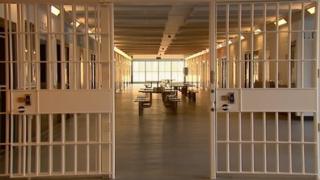 Scotland's newest jail is to receive its first prisoners.
Low Moss in East Dunbartonshire is said to offer a regime of work, education and rehabilitation, designed to cut reoffending.
Prison officials said 100 men would transfer to Low Moss from Barlinnie in Glasgow, which is more than 60% over capacity.
They will find a state-of-the-art jail with two accommodation blocks, each three-storeys high.
Every floor has four wings, controlled from a central hub.
The Scottish Prison Service said this would reduce the number of staff needed to monitor cells, freeing them to provide more programmes to reduce reoffending, and operate a nine-to-five working day for prisoners.
Power will be switched off in cells during the day, and televisions will be dark during the night.
The governor, Michael Stoney, said the importance of the moves was to encourage prisoners to get out of their beds in the morning to earn their privileges.
Low Moss will eventually hold 700 men.
However, it will not eradicate overcrowding in Scottish jails, which currently have 1,000 prisoners more than they were designed for.