Libyan Civil war victims set to return home after treatment in Glasgow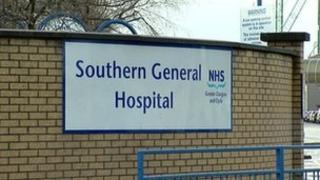 Libyan civil war victims are set to return to home after receiving specialist prosthetics treatment in Scotland.
The men arrived in January for treatment at Westmarc prosthetics centre in Glasgow.
Health Secretary Nicola Sturgeon met some of the men at the centre, which is based at the Southern General Hospital.
She said: "It is right that we were able to offer this quality of care to others who urgently needed it."
She added: "I was delighted to meet the Libyan patients today, to see first hand how our specialised skills have benefited those who were most at need."
John Colvin, Westmarc consultant clinical scientist, said: "The whole Westmarc team are delighted to have had the opportunity to help this inspiring group of patients.
"It is very difficult for us to fully appreciate what they have been through and their personal stories have been very moving.
Mostafa Benhalima, 19, from Tripoli, a third-year university student studying economics, was among the casualties brought to Scotland.
He was shot in the leg in front of his house while he tried to tie a liberation flag to the roof.
He said: "I am very grateful to the Scottish government in facilitating my treatment in Scotland. I thought I would be in a wheelchair for the rest of my life but now I can walk again.
"I would like to thank Ms Sturgeon, the Scottish government, and the staff behind the scenes who facilitated this for me and my colleagues.
'Going back'
Abdulminum El-Zair, 34, from BeniWalid, was hit by a rocket in September last year and lost his right leg.
He is, however, optimistic about the future of his country.
"We are looking to build a new democratic country," he said. "I am looking forward to going back and help in rebuilding my country. I miss my parents, brothers and sisters."
The men are part of a group of nine Libyan prosthetic patients who are receiving specialist prosthetics and support in Scotland.
Across the UK there are 65 Libyan patients receiving treatment.
Their treatment should be completed over the next few weeks and they will then return to Libya.