Cut price rail fares for Scottish jobless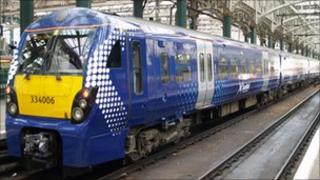 Unemployed people in Scotland are to be entitled to claim 50% off rail travel from April under a new scheme.
ScotRail has agreed the offer for those out of work for three months or more in a deal with Jobcentre Plus.
A version of the discount already operates in England and Wales, but the Scottish scheme starts earlier and can be claimed longer.
The scheme will help jobless people with the costs of travelling to interviews or training.
News of the move was revealed as leading politicians met at the National Convention on Youth Employment being held in Dundee.
Scottish Secretary Michael Moore said: "This is an excellent and generous ScotRail initiative which will give practical support to those looking for work.
"We need to do all we can to help people into employment and discounted rail travel will make it easier to attend interviews and seek out opportunities."
A similar scheme already runs in England and Wales, but unemployed people there have to wait six months before they can benefit from discounted travel.
ScotRail managing director Steve Montgomery said: "We are happy to support this initiative because it reduces the financial burden on people who are looking for work."
Jobcentre Plus staff will carry out the administration of the scheme, with the cards needed for discounted travel being issued to unemployed people at an adviser's discretion to support their return to work or travel to job interviews and training.