'No VAT refund' for new Scottish police and fire services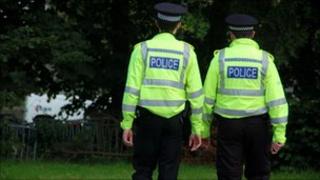 The new national Scottish police and fire services will not be eligible for VAT refunds worth more than £30m, according to the UK government.
Police forces and fire brigades are currently exempt from the charge under the present regionalised structure.
But Treasury minister David Gauke suggested the exemption will end after the move to single services next year.
The Scottish government said the ending of the VAT exemption would not result in job losses.
In a letter to the Unison union, Mr Gauke wrote: "Based on the information currently available it seems that, following the Scottish government's planned reforms, neither the new police authority nor the fire and rescue service will be eligible for VAT refunds under Section 33 of the VAT Act 1994."
He said consistent eligibility criteria must be maintained, adding: "The decision to reform the police and fire services in such a way as to make them ineligible for Section 33 against these long-standing criteria has been made by the Scottish government."
Unison claimed the ending of the exemption will cost the police £26m a year, and the new national fire service between £4m and £10m.
'Frontline services'
Scottish Organiser Dave Watson said: "The Scottish government has held out the prospect of resolving the VAT exemption throughout the bill process.
"It turns out that they knew at the outset that this would not be the case."
The issue was raised in Holyrood last month by Chief Constable Kevin Smith, president of the Association of Chief Police Officers in Scotland.
He warned MSPs on the finance committee that staff may bear the brunt of the VAT bill loss, saying it equated to around 800 employees.
The Scottish government said discussions on the VAT status of the new services were ongoing with the Treasury and HMRC.
A spokeswoman added: "It is not the case that the loss of the current exemption would result in job losses as Unison suggests, because we have costed our Outline Business Cases for Police and Fire reform responsibly, assuming the worst-case scenario that VAT would have to be paid.
"The figures show that, even with a VAT payment, a single police service will deliver estimated savings of £1.4bn over 15 years, more than the other options.
"It offers the greatest opportunity to strip out duplication, therefore protecting frontline services including the 1,000 additional police officers delivered by this administration."