Scottish teachers' strike action suspended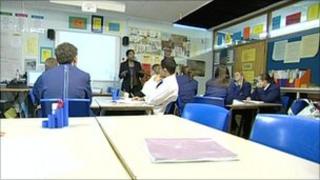 Leaders of the EIS teaching union have suspended plans for strike action on 28 March over pensions.
The move followed an agreement to hold formal talks with the Scottish government over possible changes to teachers' pension entitlement.
Teaching unions in England have also suspended planned industrial action over pensions.
The Scottish government has issued a statement in which it said it welcomed the EIS decision.
In a ballot of EIS members, 74% indicated that they would be prepared to take strike action over pensions.
The union said its lobbying on the issue had "borne fruit" with the Scottish government and local authorities agreeing to negotiate with teachers' representatives.
EIS general secretary Ronnie Smith said: "The EIS Executive meeting today decided that entering into negotiation with the Scottish government and employers offers the opportunity to find a Scottish solution to pension provision.
"The EIS is clear that further future action will be contemplated if satisfactory progress in pensions cannot be achieved in Scotland."
A Scottish government spokeswoman said: "We welcome the EIS decision to enter into formal discussions."