Scottish councils get tax powers to tackle empty homes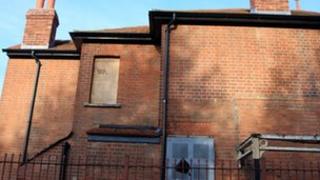 Landlords who allow their houses to lie empty face paying double the amount of council tax, under proposed new laws.
The measure is part of theUnoccupied Properties Bill, which has been introduced at Holyrood in a bid to tackle a shortage of housing.
It will allow local councils to charge extra tax on properties which have lain empty for more than a year.
A £2m loan fund has also been announced to help social landlords and councils buy up and refurbish abandoned houses.
There are about 25,000 homes in Scotland lying empty.
At the moment empty and unfurnished properties are exempt from council tax for the first six months. After that period, they qualify for a 10% discount.
The new legislation lets councils charge up to twice as much tax on the properties.
It is hoped it will act as an incentive for home owners to bring their empty houses back into use.
The Scottish government has also announced a new loan fund which will be specifically targeted at projects to bring properties into use for affordable housing.
The new bill will also reduce the business rates discount for some empty commercial properties from 50% to 10%, in a bid to encourage owners to bring boarded-up shops back into use.
Housing Minister Keith Brown said: "Long-term empty homes are a blight on communities. They often fall into disrepair, and become a focus for antisocial behaviour like vandalism or fly tipping.
"We will not simply stand by and let this continue to happen. That is why we have introduced an Unoccupied Properties Bill that will allow councils to increase council tax on certain empty homes.
"The loan fund will add to our concerted action on tackling empty homes. It will give innovative schemes the extra funding boost needed to take radical action to get empty homes back into use."
CBI Scotland said the measures within the new bill which could lead to business rates increasing for firms with empty properties could have a negative impact.
The business body's assistant director David Lonsdale added: "The decision to levy an extra annual £18m tax on firms with empty premises is very disappointing.
"Ministers claim the extra tax will "incentivise" the use of empty properties, but it feels more like a stick than a carrot.
"Commercial premises are rarely left empty on purpose as they do not generate an income, and our members fear this move will affect cash flow and also put off much needed private sector investment."