Scotland's transport: Bus bother and plane speaking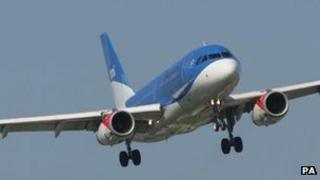 Two big decisions about Scottish transport in two days. One is at the cheaper end, with cutbacks in bus services. The other is at the premium end that connects to the world.
On buses, the warning from Aberdeen's First Group on Thursday morning about its UK bus operations has big implications for some urban communities.
First Bus has done well by carving out dominant market positions in large chunks of the country, operating buses in around 40 towns and cities.
But come the downturn, it's finding passenger revenue is disappointing, particularly in Scotland and the north of England where it gets 60% of its bus revenues.
The public spending squeeze is bearing down on subsidies for routes and for concessionary fares, and fuel costs are rising, so margins are down to only 8%.
That's far below market expectations, and translates to perhaps £50m in lowered profits expectations.
Although the rest of the group is doing fine, from US Greyhound to shortlists for rail franchise, the bus woes pushed First Group shares sharply down.
The company said in a trading statement on Thursday: "In addition to the programme of selective asset and business disposals already commenced, we are accelerating a comprehensive plan to significantly reposition the portfolio in the coming year".
Translated out of business-speak, that sounds like a rapid disposal of bits of the business are now being sought, probably around £100m worth.
And it doesn't look good for staff or for those who depend on the more marginal services.
They've already seen fares rise and routes being shortened. And in my limited experience, a bone-rattling journey with First's ageing fleet is rarely a pleasure.
So although the routes may be lengthened again, First's core areas may come to see 29 March 2012 as a bad day on the buses.
Slot machine
At the premium end of travel, Friday 30 March looks like a vital day for the future of Scotland's air links.
IAG, owner of British Airways and Iberia, wants to buy loss-making BMI from Lufthansa.
Among many other things, BMI is British Airways' only rival for flights between London Heathrow and both Aberdeen and Edinburgh.
The deal is to get hold of landing slots at Heathrow which, because of the refusal of the UK government to allow a third runway, are very scarce and very valuable.
That, incidentally, was one of the low-key but potentially significant announcements in last week's Budget, in which George Osborne said he was re-opening the issue of south-east England's airport capacity.
IAG has made clear it wants to use BMI's slots for long-haul routes, on which the margins are sufficient to justify the price. But the European Commission, with the regulatory role in the merger, may think differently.
Reducing dominance
It's understood that IAG will be required to give up as many as 14 of BMI's 56 land-and-takeoff paired slots.
That should reduce the dominance it has at Heathrow, but it won't stop it rising from 44% to more than 50% of slots - a dominance which has Virgin Atlantic's Sir Richard Branson seething, after he lost out on BMI.
From a Scottish perspective, as well as from Northern Ireland or on other routes on which BA and BMI have been the only competitors, there's the question for the European competition commissioner of whether some slots are to be protected for shorter-haul services linking with other parts of the UK.
The Commission can force IAG to accept such a condition. It could even ensure they are at valuable times of day. It's less clear that it can stop it charging monopolistic prices on those Heathrow links.
It seems one factor that hasn't featured in the regulatory discussion is the future of either BmiBaby, the low fare carrier, or of BMI Regional.
There isn't much hope for salvaging much out of BmiBaby.
Granite Air
But as I've reported before, there have been hopes of, and advanced talks around a Scottish-based buy-out of BMI Regional.
It's the division of the airline based in Aberdeen, which used to be Business Air, and which flies 15 commuter jets between smaller airports in the UK and on the continent.
Under the codename Granite, there has been a prolonged effort both to raise the £20m to £25m necessary to buy BMI Regional from Lufthansa before the 31 March deadline set for the IAG deal, and to persuade Lufthansa to part with it.
But the money's not there. And in the absence of a deal, the division, with more than 300 jobs, most of them in Aberdeen, will become part of IAG.
The giant air group knew there was interest from a Scottish consortium in buying Regional, but it has said nothing about its intentions for it if it was handed over with the mainstream part of BMI.
It's still not saying, but there has to be a concern about both that business and the routes it operates, as IAG certainly doesn't see its future as operating commuter jets between smaller cities.