Scottish Poppy appeal raises record amount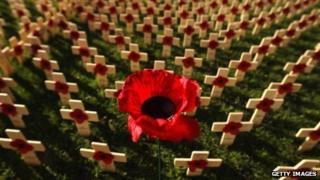 A record-breaking £2.68m was raised during last year's Scottish Poppy Appeal, it has been announced.
Poppyscotland said the total of £2,688,084 donated in the 2011 campaign was an "astounding" 14.7% increase on the previous year.
Last November marked the 90th anniversary of the appeal.
The money provides support to war veterans and their families, and awards grants to organisations that provide specialist services to veterans.
Ian McGregor, chief executive of Poppyscoland, said: "The 90th anniversary of the Scottish Poppy Appeal was a big year for us and, thanks to the public's wonderful generosity, we can continue to provide life-changing support to Scotland's veterans."
Volunteers needed
The charity announced the total at an event on board HMS Defender, a type 45 destroyer, at BAE Systems in Scotstoun, Glasgow.
Crew members were joined by retiring poppy appeal volunteer Robert Laidlaw, from Clydebank, as Poppyscotland called for more volunteers to help with the 2012 campaign.
Mr McGregor added: "Our volunteers are incredibly loyal and hard-working, with some serving for 50 or more years. They carry out vital duties and the sterling efforts of Robert and his team are mirrored across the country.
"Understandably, many, like Robert, are retiring and it is vital that we recruit new volunteers to ensure the appeal will be as successful this year in order to meet the growing demands on our services."