Unwrapping the Murray mint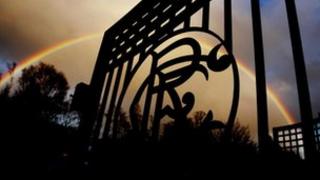 A 42-hour power cut while I was on a Hebridean holiday last week may have been the reason Sir David Murray couldn't reach me to offer his customary spin on his latest set of company accounts.
Others - either better connected by Scottish Hydro's technicians, or part of the metals-to-property magnate's favoured circle - were honoured with a highly selective release of statistics.
Operating profit in the black, with Murray International Holdings (MIH) making £11m last year.
A £59m write-off on the sale of Rangers, demonstrating just how much the former owner and chairman had given the football club.
A swap of £118m debt for equity with Lloyds Banking Group which didn't even dilute the Murray family's 70% voting power over MIH.
Unsurprisingly, that wasn't quite the full story. Sir David omitted to point out that most measures of profit and loss were drenched in red ink.
On group turnover of £395m, loss before tax was £87m. That compares with a £69m loss last year.
And yes, most of the most recent loss was explained by writing off almost all of a £60m loan to Rangers from MIH's sports subsidiary, along with reduced valuations on property and a £13m hit on the goodwill reckoning of the MIH metals business.
The chairman also seemed to forget to mention that the metals division, the foundation on which his once mighty company was built, is up for sale, in parts or as a whole.
Notoriously complex
That much came out after the selective briefing, with the release by Companies House of the private company's accounts for the year to June 2011. And on closer reading to end off said Hebridean holiday, the full picture gets ever more interesting.
It shows the 10 months of the financial year in which Rangers FC was under the control of MIH delivered £8.7m in profit. Some £4m of that came from profit on player sales.
In the previous full financial year, the club delivered MIH some £5m profit. Not such a costly farewell after all.
It turns out not all of MIH's metals business could be fully signed off by auditors as a conventional going concern, triggering an "emphasis of matter paragraph" which highlights unusual levels of uncertainty about the outcome of the current business review.
And Lloyds Banking Group is putting a stop to Sir David's notoriously complex cross-subsidies of MIH's divisions.
The healthier bits - providing metal to the oil and gas sector, and in outsourcing business services - are no longer to cross-guarantee the main metals business or commercial property. Or, indeed, Rangers Football Club.
'For sale' signs
Lloyds has kept MIH alive, as a means of recovering as much as possible of the £759m debt it built up through Bank of Scotland's breathtakingly generous corporate division boss, Peter Cummings.
The company is best known to most people as having owned Rangers, but that was a relatively small part of a business that had the misfortune of focusing on metal sales to the construction industry and on commercial property, both of which suffered the worst of the downturn.
But to keep MIH going, it's clear from the past two years of accounts that the bank is dispensing some harsh medicine.
This is not to be interpreted as pressure from the bank, spins Sir David. But it's hard to believe this was the path the chairman would have chosen if the bank were leaving him to his own devices.
MIH's asset management division has been divested. It dropped its mining interests. Rangers had to go too, of which more later.
The commercial property portfolio and development land is being given time for prices to rise before getting flogged off.
The London market has offered better prices than elsewhere, helping MIH to raise £315m in assets so far, including £68m in the most recent financial year.
All this appeared until last year to be a strategy to protect the core metals business. But disappointing prices and trading figures mean that even that now has the 'for sale' sign up.
We're now told, via the old Ibrox-style briefings, that a buyer has been lined up to take on half the metals business. Let's hope it's not Craig Whyte.
Meanwhile, costs have been slashed, with staff numbers down by nearly 850 to 2660, some with those divestments.
Since March, far more jobs are being transferred to a rival outsourcing company since MIH's Response subsidiary lost the Sky TV contract, its biggest.
In the 2010-11 financial year, total staff wages and salaries fell from £85m to £60m. It's hitting the pay packet of the highest paid director.
Let's assume that's Sir David himself, seeing his wage packet thinning somewhat from £1.014m to £793,000.
Duped and staggered
On Rangers, the MIH chairman's statement with his annual accounts says nothing about the pressure he may or may not have been under from Lloyds Banking Group to sell to Craig Whyte in May last year.
Before then, he had said he was delaying a sale until he had found a worthy buyer who would act in the interests of the club. There wasn't a long queue.
The subsequent unfolding of events has probably tarnished Sir David Murray's reputation more than anything, which he acknowledges.
He's already said he feels he was "duped" by Craig Whyte. His statement goes further, saying the sale has caused "profound regret that we sold the club to Craig Whyte and Wavetower [the financier's then investment vehicle]".
Sir David says Rangers' former directors provided Craig Whyte with confidential information which he used to carry out the transaction to buy the club.
He doesn't quite spell out that trust was betrayed. But with the new owners having obligations and responsibilities to carry out: "They patently failed to do so".
'Particularly disturbing'
Sir David now says he's "gravely disappointed and staggered" at the revelations that have come out since the start of this year, including the news that Ticketus provided the funds with which to buy Rangers in exchange for future season ticket sales.
The failure to account for £9.5m from that funding is "particularly disturbing" when there were "independent confirmations" provided last 3 January that the promises given by Craig Whyte last May would still be adhered to.
"Not unsubstantial documentations" have been handed to the administrators.
What Sir David does not address is the criticism of the potential tax liabilities Rangers still faces as a result of the Employee Benefit Trusts through which he paid players to avoid tax.
That pre-dates any involvement of Craig Whyte, and still awaits the ruling of a tax tribunal.
Whatever has happened since May 2011, when Mr Whyte got 85% of Rangers shares for only £1, that tax bill alone has the weight to sink Rangers.
And it seems from the MIH accounts that the ruling may also come back to bite the parent company as well. It "continues to defend [the] tax query".
But while it's still being contested, and with professional advice, the directors of Murray International Holdings don't feel it necessary to spell out in their accounts the size of the bill they'll face if the ruling goes against them.