Donor plea dad says kidney disease news was 'ultimate shock'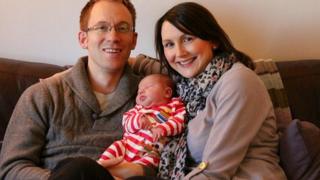 As a young, newly-married man with a career in the oil industry and the prospect of starting a family, David Speers had everything to live for.
But the 34-year-old's world came crashing down after being told he had chronic kidney failure, and would need a transplant to save his life.
While looking to buy a new home, Mr Speers - who had always seen himself as fit and healthy - underwent a routine medical examination for life insurance.
It was that examination, in 2009, which revealed he was suffering from IgA Nephropathy, an autoimmune disease that attacks the kidneys.
Mr Speers, who at the time had just married girlfriend Linda, said: "I was at that point in life where I was doing all the adult things you do, getting married, getting a mortgage, life insurance and looking forward to starting a family.
"It all seemed routine but, fortunately, the doctor doing my medical picked signs of excessive blood and protein in my urine and referred me to a consultant who, after doing a biopsy, told me I had kidney failure.
"I count myself lucky that it was diagnosed when it was, I had no symptoms and was always fit and healthy."
Mr Speers, an oil and gas contracts consultant in Aberdeen - whose daughter, Zoe, was born in December - was put on a special diet, but doctors warned him he would soon need dialysis and, eventually, a kidney transplant.
"It was the ultimate shock for us both, but I had to keep positive and stay as fit and healthy as I could," he said.
Life-saving phone call
Mr Speers decided to spend nine months training for an Olympic-distance triathlon before his life changed.
He added: "I wanted to do it as my way of saying this wasn't going to beat me and nothing is impossible when you put your mind to it."
He took part in in the event, completing a 1.5km swim, a 40km cycle and a 10km run.
Just two weeks later, Mr Speers had a catheter fitted to start his kidney dialysis which he now does four times a day, every day, severely restricting the amount of physical activity he can do.
He added: "My whole focus since then has been on my daughter Zoe.
"When she was born it was amazing, the best moment of our lives, we have so much hope, plans and excitement for the future.
"Zoe puts it all into perspective; both Zoe and Linda are my inspiration and energy for life, I'm not going to let this beat me."
Mr Speers has been on the transplant list since last June, and since then has been waiting for the life-saving phone call that may once again allow him to live a normal life.
Urging as many people as possible to join the organ donation register, he said: "My story is not unique or special - I am just a normal guy with a positive outlook on life, a loving wife and daughter, while also waiting on a life-changing transplant.
"There are so many people waiting on transplants and coping with a lot more than me, if from reading this, just one extra person joins the NHS Organ Donor Register then I have achieved something."