Artists compete for Scottish Album of the Year prize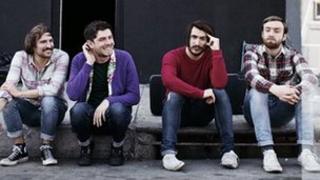 A long-list of the twenty titles in the running to be named Scottish Album of the Year (Say) has been revealed.
The new prize, being awarded for the first time later this year, has been billed as the Scottish equivalent of the prestigious Mercury Music Prize.
The band or artist behind the winning album will receive £20,000.
Mogwai, Bill Wells and Aidan Moffat, Twin Atlantic, FOUND, Mungo's Hi-Fi, Tommy Smith and Rustie are among those who feature on the list.
The prize has been established by the Scottish Music Industry Association (SMIA).
The body says the long-list features an eclectic range of albums and artists and provides a diverse snapshot of Scotland's musical landscape.
The £20,000 prize-fund puts it on a par with the Mercury Music Prize and the Turner art prize.
Andrew Dixon, chief executive of Creative Scotland, said: "In such a nation of music lovers, it's no surprise that the Scottish Album of the Year Award is such an eclectic and entertaining list and brimming with talent.
"In this Year of Creative Scotland, the awards are a brilliant way to raise the profile of our musicians."
The long-list was drawn up by after 100 "nominators", including music journalists, bloggers, radio presenters, promoters, venues, club DJs, festival organisers, academics and music fans, who were asked to name their five favourite albums.
The twenty highest-scoring albums then made up the list.
This will be whittled down to ten by a panel of ten judges, with a shortlist announced next month.
Music fans will also have their say, with the opportunity to vote for their favourite on the Say award website and through a specially designed app.
The public's choice will earn a guaranteed slot on the shortlist.
The final winner will be announced at a ceremony in June.
Aidan Moffat, who is nominated for his collaboration with Bill Wells, said: "Scotland's not very good at blowing its own trumpet, but it's about time we had our own award to celebrate the overabundance of brilliant and diverse music we make every year."
Stuart Braithwaite from Mogwai added: "There is an abundance of great music being produced in Scotland every year and I hope that this new award helps us celebrate it and share it."
Steven Kane, of Happy Particles, whose album was previously only available as a download, said: "We are completely astounded that we managed to make this list at all, considering we put the album out ourselves on bandcamp and had little publicity surrounding it.
"I think it goes to show the Say award is not just another 'pat on the back for the lads' type award."