Oban woman Susie Wolff joins Williams F1 team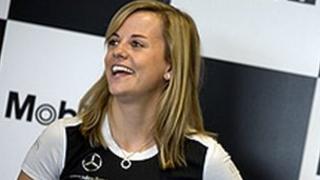 Scottish racing driver Susie Wolff has signed for Williams as a development driver for Formula 1.
The Oban-born racer is one of only a handful of women who have driven in F1 in its history.
While her new role is a development one - involving aerodynamic trials and track tests - she has ambitions to start on the grid for Williams in the future.
Wolff, who is 29, said entering F1 was "a big dream of mine".
Wolff has already established herself among the world's top female racers; she currently drives in the German touring championship Deutsche Tourenwagen Masters (DTM), alongside David Coulthard and Ralf Schumacher.
She will continue to compete in the DTM, where she has driven for the past six years.
Williams team principal, Frank Williams said: "Susie is a talented racing driver who competes in one of the world's most fiercely-contested racing series [DTM].
"Susie will also attend a number of races with us."
'Different league'
Wolff made clear that F1 is a huge step up from the driving championships she is used to competing in.
She said: "Formula 1 is just a completely different league because it's the top championship in the world. The cars are the most advanced cars in the world; the fastest cars, so it's a lot more physically demanding and there's a lot more technical work going in in the background."
Wolff started racing when she was eight. Her father, John Stoddart owned a motorcycle dealership in Oban and raced bikes competitively.
She competed at karting championships as a child at the West of Scotland Kart Club, before earning a place in Formula Renault and then on to Formula 3. She joined the DTM series in 2006, and has been racing there ever since.
One day Wolff hopes to start a race in F1, but is determined not to "run before I can walk."
She said: "It's a dream of mine but I'm not going to look too far ahead in the future now. I've got goals to achieve first of all in my role as a development driver.
"I've got a lot of experience but I still want to improve as a driver. I think this opportunity with Williams is a fantastic opportunity and it's up to me to take that with both hands.
"They've given me the chance to show want I can do in a Formula 1 car and it's up to me to prove that I possibly do have a chance to start a race for them."
Role model
Wolff follows another woman, Spaniard Maria de Villota, into the sport. She joined Marussia as a test driver for 2012.
However, the numbers of women involved in F1 are still low.
Only five women have entered F1 races in the past, the most prolific being Italian Lella Lombardi, who started 12 grand prixs in the 1970s.
The last woman to enter the F1 world championship was Italian Giovanna Amati in the 1992 season with Brabham.
Wolff said there were a "number of factors" which explained why women found it harder than men to break into motor racing.
She said: "The sheer fact that there aren't as many women racing means that there's less chance of the best rising to the top.
"You get a young girl who is really interested in motor sport; who has a passion for it, she watches Formula 1 races with her family at the weekend but she doesn't see any role models to inspire her to be involved in motor sport, or to make her believe that she could be involved."
However, Wolff points to a number of prominent women in F1, including Frank Williams' daughter and team board member, Claire Williams, to suggest that opportunities for women are improving in the sport.
"There are some quite powerful women in the team now and I think slowly but surely it's all starting to change in F1" she said.
In 2010 Monisha Kaltenborn was appointed CEO of the Sauber F1 team, the first woman to hold this role.
Wolff is married to Toto Wolff, a director of Williams, who recused himself from the board when decisions surrounding her appointment were made.
F1 boss Bernie Ecclestone said: "I am really looking forward to having her in Formula 1."