Death row Scot Kenny Richey admits threatening judge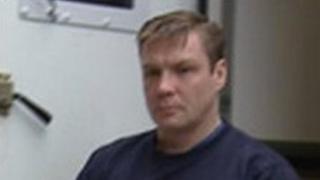 A Scot who spent two decades on death row could be sent back to jail in America after admitting threatening a judge who prosecuted his original case.
Kenny Richey left a threatening message for the judge on New Year's Eve 2011.
He will be sentenced in Ohio in May and faces up to three years in prison.
Richey spent 21 years on death row after being convicted of starting a fire in which a toddler died. He returned to Scotland after being freed in 2008 but now lives in Mississippi.
The 47-year-old former marine, who was born to a Scottish mother and American father, was released under a plea bargain deal after a US federal court overturned his sentence.
In his latest court appearance, Richey agreed to plead guilty to a retaliation charge in exchange for prosecutors dropping a charge that he broke a protection order when he called the Putnam County courthouse in Ottawa on 31 December 2011.
Investigators said Richey was at his home in Tupelo, Mississippi, when he left the phone message for county judge Randall Basinger, warning that he was coming to get him.