Lockerbie bomber Megrahi 'in hospital for blood transfusion'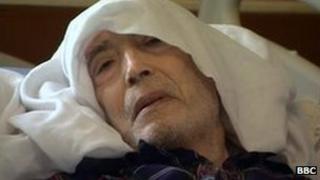 The Lockerbie bomber is said to have been admitted to hospital in Tripoli to receive blood transfusions.
Relatives of Abdelbaset al-Megrahi said his health had "deteriorated quickly" and he had been taken from his home to a private hospital.
The Libyan was released from prison in Scotland in August 2009 after being diagnosed with terminal cancer.
He is the only person convicted of the bombing of Pan Am Flight 103 in 1988, in which 270 people were killed.
His son is reported to have said: "My dad's health is very bad and has been worsening. He is on his last breath."
Megrahi was freed from Greenock Prison in Inverclyde by Scottish Justice Secretary Kenny MacAskill on compassionate grounds.
Shortly before being freed, Megrahi dropped his second appeal against his conviction.
His release sparked the fury of many of the relatives of the victims of the Lockerbie disaster.
He was given a rapturous welcome when he returned to Libya and lived past the predictions of his doctors, who estimated he had three months left.
During the past three years, his family has on several occasions said that he is near death.
But on Saturday his son was quoted by the Associated Press news agency as saying: "I don't think he can make it this time."
Last August after Colonel Gaddafi fell, Megrahi was reported to be "in and out of a coma" at his home in Tripoli.
There have been calls for him to be returned to jail in the UK or tried in the US. But shortly after they toppled Colonel Gaddafi, Libyan rebel leaders said they would not extradite Megrahi or any other Libyan.