Alex Ferguson and Kenny Dalglish back cancer campaign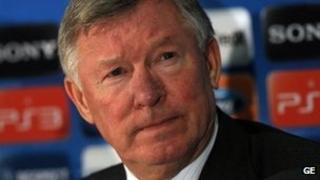 Legendary Scottish football rivals Sir Alex Ferguson and Kenny Dalglish have teamed up to back a drive to increase the early detection of cancer.
The Manchester United and Liverpool managers are supporting an initiative which encourages Scots to go to their doctor at the first sign of changes to their health.
Cancer has impacted on the lives of both men.
Dalglish said early detection allowed his wife to fight breast cancer.
The Detect Cancer Early campaign is part a £30m drive to improve cancer survival rates by 25% in Scotland.
Focusing on three types of the disease - breast, lung and bowel cancer - the initiative aims to save more than 300 lives by 2016.
Liverpool manager Dalglish said: "Witnessing my wife Marina battle with cancer really took its toll on me and the rest of the family.
"If anything, having her here now makes you realise how short but precious life is."
He added: "Beating cancer can depend on how quickly it's detected.
"We're so lucky that my wife's cancer was detected early and she was treated immediately and she's still here fighting the cause and doing as much as possible to raise awareness of breast cancer through our charity."
Marina Dalglish said her battle with cancer was "one of the most difficult but significant times" of her life.
"I'm living proof that you can beat this disease but my cancer was diagnosed early," she said.
"Don't be embarrassed about checking your breasts or bothering the doctor with changes to your health, it could be nothing but it could also mean your life."
Sir Alex, who lost both his parents to lung cancer, said: "I know better than most the devastating impact that cancer has on families.
"If you're a smoker like my parents were, always be aware of any changes to your health and go straight to your doctor.
"Life is very short and there's so much to live for, especially after cancer."
Health Secretary Nicola Sturgeon said early detection could help address people's fear and lack of knowledge and lead to a rise in cancer survival rates.
She said: "Breast, bowel and lung cancer are the three most common cancers in Scotland, and by diagnosing and detecting these cancers earlier, we can treat patients when their general health is better and when less aggressive treatment may be required than if the cancer had spread.
"This will improve survival and reap benefits for patients, their families and all of Scotland."
Other celebrities, including television presenters Carol Smillie and Jenni Falconer, are backing the programme.
Labour's health spokeswoman Jackie Baillie said: "I am delighted that Alex Ferguson and Kenny Dalglish are backing this campaign.
"Having these two big hitters on board is absolutely great. We need to encourage those who suspect cancer or who are worried about it to see their GP as quickly as possible, and for the GPs to be able to arrange access to a specialist speedily."