London 2012: Organisers say Games 'will benefit Scotland'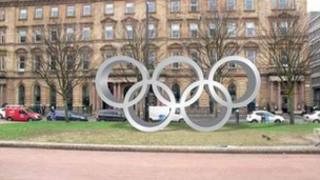 Organisers of the London 2012 Olympics have insisted the Games will bring benefits for Scotland.
It is exactly 100 days until Glasgow plays its part as a host city, with Hampden Park the venue for eight football matches.
But so far ticket sales have been poor - with more than 90% unsold.
Organisers said this would pick up once the draws were made. Glasgow City Marketing said the Games would generate more than £6m for the local economy.
Olympic rings will be erected in George Square this summer to mark Glasgow's status as a host city.
Free transport will be laid on to ferry fans to the five women's and three men's football matches taking place at Hampden.
But the teams which will take to the Scottish pitch have still to be announced, with the draws due to be made later this month.
Paul Deighton, chief executive of the London 2012 organising committee, told BBC Radio Scotland he was not concerned by the fact that only 20,000 tickets had so far been sold.
"The pace at which we are selling tickets is exactly what we would expect for this stage, in fact slightly ahead, given that we don't know who is playing," he said.
He also insisted the Games were already bringing wider benefits to Scotland.
He added: "We've got the Torch Relay coming to Scotland, starting in Glasgow in June.
"There are lots of other social and cultural projects which Scotland is participating in, lots of volunteers from Scotland, lots of Scottish schools in our education project.
"We have had lots of Scottish businesses winning contracts. Barr Construction in Paisley put up our temporary basketball arena here in the Olympic Park. We use Aggreko to provide all our temporary power across all our venues."
It has also been confirmed that four countries - Cameroon, Namibia, Zambia and the Virgin Islands - will use Scotland for pre-games training camps.
More than 200 official pre-camp training agreements have been signed throughout the UK, with 13 north of the border.
Scott Taylor, the chief executive of the Glasgow City Marketing Bureau, said the Games were a great opportunity for the city.
He added: "We may get Brazil playing here in Glasgow, we may get Spain playing here.
"But the real treat for us is that about 1.6 billion people will be watching the Olympics, and the football, taking place - so Glasgow will be on a global stage and the excitement will definitely be building here."