London 2012: Marathon woman Freya Murray eyes the Olympics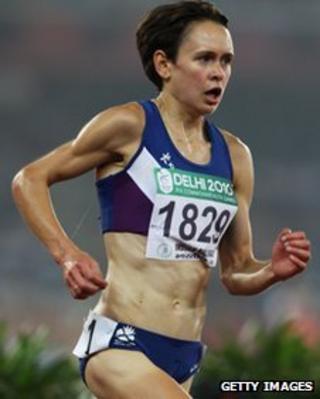 Scottish athlete Freya Murray is hoping her first marathon will bag her a place in this summer's Olympic games.
The 28-year-old represented Scotland in the 5,000 metres and 10,000 metres in the 2010 Commonwealth Games.
However, the London Marathon on Sunday will be the first time she has completed a competitive marathon.
Paula Radcliffe and Mara Yamauchi have already qualified for the Olympic marathon. Murray hopes she can win the final place on the GB team.
However, Murray will face stiff competition from other top women athletes, including Claire Hallissey, Liz Yelling, Louise Damen and fellow Scot Susan Partridge.
Veteran marathon runner Jo Pavey has already run below the qualifying time and the other women will need to beat her time of 2:28:24.
Murray told BBC Scotland radio programme So You Think You Can Run a Marathon she was "excited" and "nervous" to be running her first marathon.
She said: "I am looking forward to it and I think it will be an amazing experience but I think obviously there will be a bit of both those emotions coming into it."
Murray, who is from Edinburgh but trains and works as a structural engineer in the Newcastle area, said it would be "amazing" if she made it to the Olympic games in London.
"Anybody who is considering themselves an elite athlete then that is one of the things they are really aiming for," she said.
In preparation for the marathon, Murray flew out to a UK Athletics training camp in Kenya earlier in the year and also went to Boulder, Colorado, in March.
Both trips allowed her to train at altitude, thought to be essential for marathon runners.
Though Murray has never run a marathon, she did the New York half marathon in March in a personal best 72 minutes 31 seconds.
Her coach Steve Jones said: "This isn't about the Olympics.
"Everyone is making this about the Olympics.
"As far as I know there will be another Olympics in four years so there is no great rush to make this team.
"It will be the icing on the cake if it happens this year."
He added: "She has only been to one major games so far - the Commonwealth Games.
"It is just about getting on that start line and running to her potential.
"Running the way she trains and the way she focuses and dedicates herself to her running."
Marathon selection
Murray said: "It is a bit different from other events.
"So much goes into getting it right on the day.
"It is not like you can do another one in a few days time if it does not go well."
The last Scottish woman to represent GB in an Olympic marathon was Liz McColgan in 1996 in Atlanta.
She told BBC Scotland: "It has been quite unfair in the marathon selection that they have selected two spots and only left one open.
"They have got to run under 2hrs 29mins and the two Scottish girls - Susan and Freya - have got every ability to do that but so have about eight other girls.
"The London marathon this year is going to be really exciting. The best girl is going to get that slot."
McColgan, a previous winner of the women's London marathon and the Scottish record holder, added: "When you look at the marathon distance, it is far different from any other event that you have got to qualify for.
"It takes a lot more months to recover to be in peak shape for the next one.
"It is really difficult to get it right on the day.
"It is a bit of lady luck and what side of the bed you get out of in the morning. It is not just about the training."
The last time a Scottish man qualified for the Olympic marathon was Donald McGregor, who came seventh in Munich in 1972.
Scotland's top ranked men's marathon runner is Andrew Lemoncello, from St Andrews.
However, he has had a persistent "nagging" problem with his leg.
It is thought the 29-year-old will now focus on securing a spot in the 10,000 metres.