Being fairly agreeable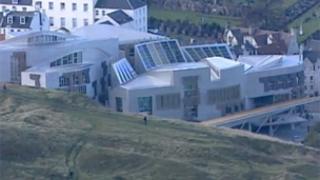 It was all remorselessly genteel. Ineffably polite. Like duellists anticipating a deferred contest, the main participants, mostly, indulged in nothing more hurtful than a little light word-play.
I refer to the debate at Holyrood this afternoon in which MSPs endorsed the concept of enhanced powers for the Scottish Parliament - with varying degrees of enthusiasm.
All who took part were warm in their praise of Linda Fabiani who had chaired Holyrood's committee investigation into the issue with deft diplomacy. She smiled, disarmingly.
It was as if the participants knew that this was not the core conflict, nor even a skirmish. Rather, it was a display of potential political armour - a wappenschaw, to use the Scots word.
So what was happening? MSPs were granting legislative consent to Westminster to enact the Scotland Bill - a proposal by the UK Government to devolve certain additional powers to the Scottish Parliament and, most significantly, to enhance Holyrood's financial powers.
UK Ministers had said they would not proceed without Holyrood consent (Sewel convention plus respect agenda.) Scottish Ministers initially voiced considerable scepticism - too little, possibly a cul de sac, possibly damaging in that it might end up cutting Scotland's money.
But then a deal was done. The financial provisions were reformed, there was a promise of reviewing Scotland's troubled relationship with the UK Supreme Court and very limited plans to return certain powers to Westminster were dropped.
The deal fell very far short of the demands initially advanced by the Scottish Government which included the devolution of corporation tax.
But it was a compromise. And, politically, Scottish Ministers calculated that the ground had shifted, that the core issue was now the independence referendum - and that the voting public would simply not comprehend, fully, why a Nationalist government was seemingly turning down more power for Scotland.
And so, all passion spent, we arrived at today's debate, prior to final ratification of the Bill by Westminster next week.
Labour's James Kelly met the mood. He eschewed rhetoric, mostly, praising the Bill while noting areas - such as the devolution of Air Passenger Duty - where he would want to go further.
On the Scottish Government's submissions, he was mildly scathing. They resembled "a poorly presented student essay", lacking detail.
For the government, Bruce Crawford was in fine, confident form. He narrated, frankly, the transition in Ministerial attitudes - while insisting that the "harm" potentially contained in the Bill had been removed.
On the issue of detail, Mr Crawford plainly regarded the Ministerial submission as a doctoral thesis - by comparison with what he regarded as the complete absence of information from those parties adhering to the Union as to what might be the ultimate alternative to independence.
For the Tories, David McLetchie provided a master class in light satire, lampooning the problems which he discerned in each of the SNP's proposals. They were engaged, he said, in "either a humiliating climbdown or a tactical retreat". Or possibly both.
Willie Rennie, for the Liberal Democrats, similarly mocked Ministers for changing tack, asserting that they had been more firmly focused upon headlines. But, again, it was gentle, subdued.
There will be days, other days, when Scotland's future is at stake. Whatever the significance of the Scotland Bill, this did not feel like one of those days.