Strathclyde Police apologise to Shirley McKie over fingerprint case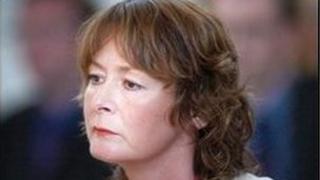 One of Scotland's most senior policemen has apologised to a former detective 14 years after she was wrongly accused of leaving a fingerprint at a murder scene.
Shirley McKie was cleared of lying under oath after insisting the fingerprint found in the home of murder victim Marion Ross in 1997 did not belong to her.
She later received £750,000 from the then Scottish Executive in an out-of-court settlement.
Strathclyde Police Chief Constable Stephen House said sorry for the "pain and suffering" experienced by Ms McKie and her family.
The case led Justice Secretary Kenny MacAskill to order a public inquiry, saying the controversy "cast a shadow of uncertainty and suspicion" over the individuals involved and the criminal justice system.
At the end of the last year, the inquiry found that the disputed fingerprint did not belong to Ms McKie.
'Honesty and integrity'
It said she was a victim of "human error" and there was "nothing sinister" at work in her case.
As a result of the inquiry, Sir Anthony Campbell recommended that fingerprint evidence should be "recognised as opinion evidence and not fact".
Last week Mr House visited the former detective constable and her father Iain McKie, who also served with the force, to make the apology.
Mr House said he was satisfied the report did not find fault in the way Strathclyde Police officers conducted themselves throughout the inquiry.
He praised Ms McKie for "maintaining the truth under such traumatic circumstances, adhering to the highest ideals of the police service, displaying honesty and integrity of a remarkably high manner".
Iain McKie told BBC Radio's Good Morning Scotland programme that Mr House's apology "closes a door".
He said he and his daughter had met Mr House so the chief constable could look Ms McKie "in the eye" as he said sorry.
Mr McKie said: "I am satisfied with the apology.
"I wish this had never happened, I wish Shirley was still in the police force pursuing her career. That didn't happen.
"Today, hopefully, is an end to this whole affair."