New SNP call for fuel price regulator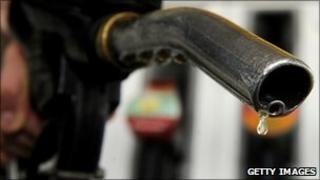 The SNP has renewed its call for a fuel duty regulator to moderate rises in the price of petrol and diesel.
The party said figures published by the European Commission show tax as a proportion of price in the UK is the highest in Europe.
On petrol, 57.4% is paid in tax. For diesel, tax accounts for 55.8% of the price.
The SNP has claimed that high fuel prices are holding back economic recovery.
The nationalist's transport spokesman at Westminster, Angus MacNeil MP, said: "The Treasury's tax take on fuel is modern day highway robbery.
"It is a national scandal that, in an oil rich country like Scotland, we are paying the highest fuel taxes in Europe.
"Families and key sectors like the haulage and the transport industry are reeling from forecourt costs, and George Osborne must honour his pre-election pledge and introduce a fuel duty regulator."
A regulator mechanism would work by diverting the additional VAT raised by the government as fuel prices rise to pay for a reduction in fuel duty.
The UK government has said that it cannot afford to reduce the cost of petrol and diesel.
Speaking last month, Business Secretary Vince Cable said: "The dilemma the government has got is this: there's an oil price shock taking place at the moment because of what is happening in the Middle East, the problems around Iran.
"We could stop all of it but it's extremely expensive, we're trying to manage the budget down, we've got to strike a reasonable balance."
The SNP has pledged that, if the Scottish government had control of fuel duty, it would introduce a fuel duty regulator.