Scottish salmon exports leap to record levels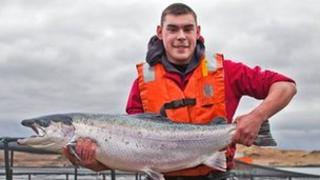 Exports of fresh Scottish salmon have leapt to record levels for the second consecutive year, according to new official figures.
Emerging and well-established markets helped boost exports by 22%, rising to 95,638 tonnes in 2011 from 78,611 tonnes the previous year.
Seven of the top ten markets have grown in volume and fresh Scottish salmon now reaches 64 countries worldwide.
The salmon export figures came from HM Revenue and Customs data.
North America has taken over as the main export market for the first time, rising 35% during the last year to 44,454 tonnes.
Europe has also imported almost the same volume as the previous year (39,979 tonnes).
Emerging markets have also seen a rise.
The Far East has risen from 682 tonnes to 6,779 tonnes, a leap of 894% and the Middle East has risen from 1,340 tonnes to 1,562 tonnes, a jump of 17%.
The new figures were revealed as the sector targets further export growth at the world's largest seafood show in Brussels from 24 April to 26 April.
The European Seafood Exposition is forecast to attract over 24,000 visitors from 80 countries.
Seventeen seafood companies are to exhibit at the Scottish Pavilion, which is organised by Scottish Development International, to promote the vision of Scotland as a "Land of Food and Drink".
Many other Scottish-based companies will also exhibit at the show independently.
High quality
Scott Landsburgh, Scottish Salmon Producers' Organisation chief executive, said: "Exports of fresh Scottish salmon have increased five out of the last six years and have almost doubled over the last decade.
"With both Scottish salmon exports and global demand for Atlantic salmon at an all-time high, the sector is a major player in the export-led recovery."
Rural Affairs and Environment Secretary Richard Lochhead said: "Scotland produces high quality and delicious farmed salmon and these figures show that global demand for healthy salmon is continuing to grow.
"The huge popularity surge from emerging markets in the Far East demonstrates the untapped opportunities for continued growth in Scottish salmon exports.
"Our salmon is rapidly becoming the product of choice in the high-end sushi and sashimi markets, underlining its premium quality and taste."