Doing the messages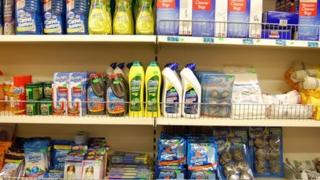 If you popped in for a paper or some milk at your convenience store this weekend, you may have noticed the boss was away.
That may be because he was in St Andrews for a weekend of rest, relaxation, no need to open the shutters for the morning regulars, and the conference of the Scottish Grocers Federation.
That's not just my sexism. I was there too, and while the event is a social one for all the family, female bosses in this sector seemed to have better things to do than listen to shop talk about, well, shops.
And what did I learn? Apart from the fact that Spar is as big in Austria as Tesco is in Britain, I learned that the sector is, at best, uneasy about the pressures to change customers' bad eating, drinking and smoking habits.
Fag-flogging
They weren't cheering from the rafters when the Imperial Tobacco spokesman made his pitch to roll back the Government's declared desire to "denormalise" smoking.
Imperial Tobacco was one of the event's sponsors, also including the three big rivals in the soft drinks market, two giant bakers, two rival dairy giants, the two big chocolate rivals, as well as those staples of the Scottish grocery basket; Tennents lager and Buckfast tonic wine.
In the case of the tobacco pitch, here was one audience that's quietly receptive to Colin Wragg's message that 6700 jobs are directly dependent on flogging fags, or that half of "roll-your-own" goes untaxed by the UK Treasury.
They're particularly receptive to the associated message that the restrictions on tobacco displays, and perhaps next on tobacco pack design, are the thin end of a wedge that could see grocers having to pass on fat tax on unhealthy foods.
They were pleased to hear Tory health spokesman Jackson Carlaw reassure them it's not their fault that people choose to be unhealthy, while he committed the Scottish Tories to opposing their Westminster colleagues on proposed moves to standard and plain cigarette packet design.
There was a sort of murmur of both recognition and despair as the fags man projected forward to a future at the check-out where customers have a quota of alcohol purchases, flashing up when compulsory electronic payment is made, beyond which the off-sales shop has to turn them away.
But then, the conference also heard that a seven-year long programme to encourage Scottish convenience stores to stock fresh fruit and veg is paying off handsomely for those taking part. The huge growth in sales of broccoli should put a spring in the step of the nation's cardiologists.
Tesco love
I also learned that these folks aren't shedding a tear over the problems at Tesco, as it seeks to refresh its brand, put more effort onto the high street, put rather less into out-of-town hypermarkets, while it "brings back the love".
For Scotland's grocers, there never was much love for Tesco. And they noted that one effect has been the gradual diminution of their number with each passing year. Most recently, it was the 200-year-old David Sands chain, gobbled up by the Co-op, with regulatory approval through in the past few days.
So what are they doing about it? Well, the so-called 'c-store' is partly to provide for those who can't get to the out-of-town, once-a-week shop. It's partly to provide a top-up service for those who do.
From retail research firm HIM, we learned there are big opportunities to 'up-sell'. The best known example of that is the £1 bar of chocolate offered up at WH Smith's check-outs.
Apparently customers are happy to have more up-selling, when only 4% of us say it currently happens.
The secret, we're told, is not just to offer stuff, but to do it in the right, appropriate way. To that end, more than four-fifths of us say staff should be better trained and more friendly.
Two thirds of people want c-stores to be more fun and enjoyable. (A bouncy castle, anyone?)
The research also shows shoppers want to shop locally, and to support their local outlet because that's a way of supporting the local community.
But there's a lot of work for them to do if they're to signal to customers that they're doing so. Just over a third of customers think their c-store supports the local community.
Pester Power
At the SGF conference, I learned that the chief commodity to get people through the door, particularly on the top-up for the big shop, is milk. Not once did I hear talk of the importance of newspapers driving people into shops, though you have to assume they remain one of the main ways of drawing people in regularly.
Instead, milk's the thing - and all the mores if you listen to Sandy Wilkie, sales and marketing director of Wiseman Dairies. He's a sort of evangelist for lactose tolerance, talking without irony of the "in-store theatre" of how his product is presented.
And it's quite a story of turning around the 20% decline in milk sales between 1993 and 2007. This says more about the power and techniques of modern marketing than it does about c-stores, perhaps.
But it's interesting, for all that, to see how £3m can be spent on signing up 23 celebrities to appeal to teenagers, driving them into parent pester power at the milk display.
White stuff
No, it's not through television adverts. You'll at least be aware of the milky top lip on celebrity coupons, smiling cheekily from the side of milk delivery trucks. Even more effective, we're told, are the bus shelter ads. There's 60% campaign recognition overall.
If you're part of the targeted demographic, you'll also be aware of the 15% of advertising budget spent on social media and PR. Among teens, there's 71% recognition.
With teenagers spending 31 hours online each week, that buys you some big numbers on YouTube, while the celebrities take the milk marketing message into the papers, often at no charge.
And by putting teenage heartthrobs The Wanted on an open-top, Fresian-style bus in central London, you can get 23,000 young women screaming for the milk message. At what cost? Not much.
Apparently, the boy band wanted to be seen as clean living, and they reckon milk's the white stuff for that.
The results? Milk sales are on the up, albeit by modest sub-2% figures for each of the past three years. But translating to 88 million litres, that ought to mean good news for dairy cows.