School pupils in Scotland start annual exams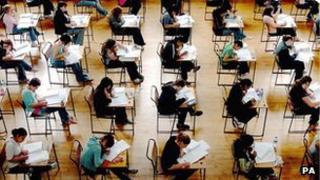 School and college pupils in Scotland are starting exams, with nearly 159,000 candidates expected to complete papers over the annual exam season.
The Scottish Qualifications Authority (SQA) said 740,096 exams from Standard Grade to Advanced Higher would be completed in the six-week period.
More than 520 schools and colleges throughout the country will participate.
Pupils will be able to sign up to receive their results via text.
SQA said more than 34,000 candidates had registered with their MySQA service, which gives participants the opportunity to receive their results by text or email at 09:00 on 7 August or "results day".
Students can also download two free smartphone apps - an exam timetable builder and a study plan to help manage their workloads.
Dr Janet Brown, the chief executive of SQA and Scotland's chief examining officer, said: "Good qualifications are probably more important today than they have ever been. Our qualifications genuinely capture and reflect our candidates' skills and provide for them a pathway to the workplace or further study.
"Today, I send my very best wishes to the thousands of learners who are embarking upon the next big step in their lives and I trust that their hard work and dedication will be rewarded with the results they deserve."
SQA staff are supported by 15,000 "appointees" every year who help to set, invigilate and mark the examination scripts.
Nearly two million scripts will be marked between now and 7 August.