Liam Burns re-elected as president of NUS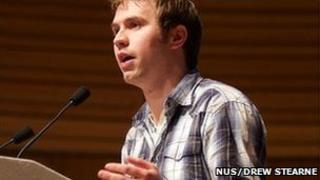 Liam Burns has been re-elected as president of the National Union of Students (NUS).
The Scottish student was elected at the union's national conference in Sheffield City Hall.
Prior to becoming NUS president in July 2011, Mr Burns served as president of NUS Scotland and was a student at Heriot-Watt university in Edinburgh.
Mr Burns defeated four other candidates for the position, and will serve until June 2013.