Fergus Muirhead answers your consumer questions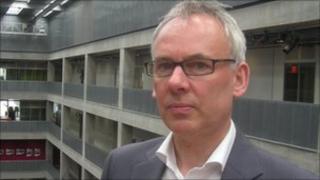 I'm Fergus Muirhead and I'm here to answer any questions you may have about any money or consumer issues.
Please drop me a line here at fergus@bbc.co.uk with your questions.
You can also read more on money and consumer issues on my own blog .
Q. In light of the Chancellor proposing a unified state pension of £140, has any date been set for introducing this? Also, does this mean that those who currently receive, or due to receive the second state pension, will have their pension reduced to the new state pension rate? Norrie Crawford
A. I'm afraid that it is a discussion document at the moment and no more so we'll have to wait to see what comes out next. It certainly seems to make sense to have one simple payment that is available for everyone instead of the rather complicated system that exists at the moment. So I'm sorry that I can't give you any definitive information as to when, and indeed even if, the new system will be introduced. It's also too early to say what impact the new system will have on those close to retirement and indeed those already in retirement when and, indeed, if it is introduced. I wish I were able to tell you more but I'll be listening as keenly for news when it comes as you will.
Q. I had to take early retirement three years ago to become carer for my terminally ill wife who died two years ago. My financial adviser set up a drawdown pension based on amalgamating three company pensions. This gives me a monthly income of £870 which I just about survive on. He now informs me that the government are forcing me to take out an annuity next year which will reduce my income substantially. At 61 I'd be almost unemployable, so how will I survive until I get my state pension at 65? Where can I get information on the best annuity for me, as opposed to the ones which will pay the best commission to my adviser? Jim Leith
A. I would start by saying that I am basing this answer only on what is in your question above, but I am not aware of any new legislation that will force you to take out an annuity next year. It is only in the last couple of years that the need to take annuity has been relaxed so it would be strange if it is re-introduced so soon. It has become fairly common in the last couple of years to amalgamate pensions as you have done and take an income from the combined fund rather than 'sell' your fund to an insurance company in return for an income for life, or annuity. Having said that, there may still be reasons why it would be better to buy an annuity. If you decide to go down this route, you should make sure that you have someone research the whole market to find the best annuity rate for your situation. It does sound as if you need to begin by clarifying with your adviser exactly what the situation is regarding your current pension, to find out whether you do in fact 'need' to buy an annuity or whether there are reasons that your adviser thinks make it in your interest to switch from drawdown to annuity.
Q. I took early retirement from teaching when I was 53, as I had a hearing loss which made teaching difficult. I had carefully worked out how I would survive, given that my OAP pension would not be paid until I was 63 and three months, and my teaching pension would be actuarially reduced when I got it at 55. I am now 57, and have just received a letter from the government telling me that my government pension will not be paid until I am 64 and three months! How am I supposed to survive for an extra year? I am not working, so cannot put more aside. My finances were carefully worked out. I am too near the pension age to be able to change my financial planning. And what worries me more than anything is that this is the third pension change that I have had to consider. When I was 30, I was looking forward to retiring at 60. Then, when I was 40, the government changed the rules: younger than 38, retire at 65. Between 38 and 43, retire at 63 (me). Over 43, retire at 60. Then another change: phased retirement - this had me retiring at 63 and three months, but I didn't moan because it was only another three months. Now this new letter has me retiring at 64. I'm sick with worry. What if the government changes the rules again? I'm going to have to move to a smaller house to free up some money to supplement my small teaching pension, until I'm eligible for my OAP pension. Elaine A Laing
A. The state pension age for women, and to a lesser extent men, has been creeping up gradually in recent years. The government will say that it is because we are all living longer and working longer and so we should be able to delay the age at which we receive our pensions from the State. While that might not be a huge problem for younger folk who have longer to prepare for these changes, it seems that you have spent a bit of time and effort doing your sums and working out how much you need to live on as you wait for your state pension to be paid.
Q. I am currently in receipt of an occupational pension. When I qualify for the state pension later this year will the two be aggregated for tax purposes? John Peerless
A. Yes they will, is the short answer. It confuses a lot of people but basically all of your pension income will be added up and then tax will be deducted if your total income takes you over your personal allowance. It might be that all of the tax is deducted from one pension and that is what causes the confusion, because some people think that one of their pensions is being 'over-taxed'. It is, but the other one will be 'under-taxed' to compensate.