London 2012: Barrowlands set for Olympic dance finale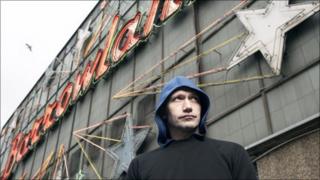 A large-scale community dance project will be staged at Glasgow's Barrowlands ballroom as the finale to the London 2012 cultural programme.
The production in September is being created by international choreographer Michael Clark.
It will involve hundreds of local people working with professional dancers to celebrate the Barrowlands.
More than 250 events will be taking place across Scotland as part of the Olympics cultural programme.
The culmination of the Cultural Olympiad marks the handover from the London 2012 Festival to the Glasgow 2014 Commonwealth Games.
Scottish dancer Michael Clark is renowned for his avant garde work but the Barrowlands Project will be more mainstream.
Clark and his company intend to work with people who have frequented the dancehall over the years for the event on the weekend of 8 and 9 September.
Other Cultural Olympiad events in Scotland include soundscapes in some of the most remote locations, a mass bellringing project and a comedy relay which will bring comedians from London to the Edinburgh Festival on board a narrow boat.
Ruth Mackenzie, director of the London 2012 Festival and the Cultural Olympiad, said: "Every element of this exhilarating programme is a testament to the quality of Scotland's creative talent and the great producers who have invited wonderful artists from round the world.
"The programme has been produced in partnership with Creative Scotland, whose great skills in developing strong creative collaborations which will be an asset as the country prepares to welcome the Commonwealth Games in 2014."