Reach for the Sky jobs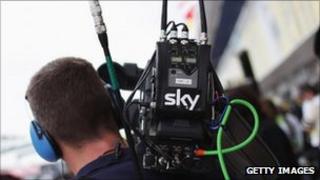 If you're not willing to fight for Scottish jobs and the Scottish economy, you shouldn't be in Scottish politics.
So says the First Minister. And who would argue with that?
But one of the questions raised by his willingness to lobby for Rupert Murdoch's News Corporation is what it has to do with the Scottish economy.
For sure, this is one of the biggest private sector employers in Scotland, with more than 6,000 jobs. Any first minister would want to keep in close touch with a company with that significance.
But it's less clear what the share deal which was being proposed by News Corporation, to take over all of BSkyB, had to do with its operations in Scotland.
Lobby fodder
Whether News Corp owns all of BSkyB's shares or, as at present, a stake that gives the company effective control, there's been no indication yet that this would change its business plan, its offer to customers, or its commitment as an employer.
So if it was necessary to back the News Corp bid in the interests of the Scottish economy, it follows either that a failure to secure all BSkyB's shares would result in job losses, or that success in securing those shares would increase the company's presence in Scotland.
So which was it? And given that News Corp withdrew its bid for the full takeover of BSkyB, does that bode ill for Sky's employment in Scotland?
Maybe we'll find out at First Minister's Questions today. Or perhaps we'll hear from Jim Tolson, who was the Lib Dem representing Dunfermline, which has a large Sky call centre. The News Corp emails show he was also part of this lobbying operation.
Contrarian
Two other questions spring to mind. What impact would a call from Alex Salmond have on Jeremy Hunt, the culture secretary who would have made the decision on News Corp's bid?
We're unlikely to find out, as the call was never made. And anyway, that's the least of Jeremy Hunt's problems right know.
But News Corp's internal memos suggest the advantage of having support from the Scottish government "as a strong ally" would be because it might seem "contrarian/unexpected".
You can almost see Jeremy Hunt putting the phone down in his Whitehall office after a chat with Mr Salmond, saying: "Crikey, who'd have thought it...?"
And a final question, with links into the Donald Trump Show at Holyrood on Wednesday: the Scottish government doesn't have regulatory powers over Scottish companies under competition law, but what if it did?
The nods, winks and assurances that Donald Trump claims he was given by two first ministers show that regulatory powers over planning have to be used very carefully. The protocols may have been observed, but anyone watching that story unfold was in little doubt that Trump's plans had the support of the Scottish government.
So if it was the case that News Corp was wielding sticks and carrots for the Scottish economy, in order to get Scottish government support for its BSkyB bid, what would Holyrood ministers in an independent Scotland do under such pressures?
On the other hand, if such deals are being done between London and New York, with such a significant impact on the Scottish economy, what influence would those independent ministers have when they pick up the phone to Whitehall, and ask to speak to a foreign government?
Update at 15:00 26 April: No surprise that the Murdoch and Trump issues did indeed dominate First Minister's Questions today.
And sure enough, Mr Salmond said his support for News Corp was to do with "major job losses" being threatened last year, when the company reduced the number of its contractors from nine to two.
As a result, he pointed out that HEROtsc won one of the contracts, and was "bringing 900 jobs to Glasgow".
Two points: at least 800 of those jobs were being brought to one part of Glasgow from another part of the city.
HEROtsc, an Indian-owned company with a large presence in Scottish call centres, won the contract from Sir David Murray's Response call centre business. His staff were transferred from one employer to the other, and to an office about a mile away.
The other point is that the First Minister's response implies a link between BSkyB choosing to put/place jobs in Scotland and his support for News Corp buying all of the broadcaster's shares.
If so, it's not clear why Glasgow retained those jobs after News Corp's takeover bid was withdrawn.
And did the Murdochs threaten to remove jobs from Scotland unless they got Scottish government lobbying support?