More language assistants to be employed in Scotland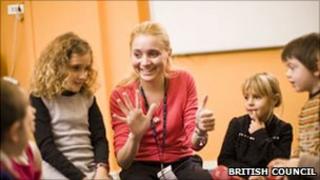 The number of foreign language assistants in Scottish schools is set to rise for the first time in seven years.
It follows a campaign to reverse a steep decline in their numbers.
The assistants are generally native speakers of languages such as French and German who support language teachers in the classroom.
The number of assistants is expected to rise from 59 to 70 next year. There were 284 as recently as 2006.
Of the 70 assistants, 46 will work in state schools and 24 will work in independent schools.
French and Spanish assistants have seen the biggest increases, while numbers of German and Italian assistants are set to fall.
Mother tongue
However, British Council Scotland, which runs the programme, said much more would need to be done to get numbers back to levels of previous years.
It manages the foreign language assistants programme with a grant from the Scottish government - but it is for individual local authorities to decide whether to take on assistants.
British Council Scotland said the decline in the number of language assistants over recent years was thought to be the result of local authorities cutting back after the removal of ring-fencing from local government finance by the Concordat of 2008.
The cost of a language assistant recently fell from £9,000 to £7,911 per year. It is possible to share one language assistant across up to three schools.
Last year, a range of educational, cultural and business organisations - as well as the Consuls General in Edinburgh of France, Germany, Spain, Italy and China - voiced their support for British Council Scotland's awareness-raising drive about the decline in language assistants.
The Scottish government has established a Languages Working Group to look at how a "1+2" model - whereby pupils would study two languages additional to their mother tongue - could be delivered.
It is due to make recommendations to ministers shortly, and is likely to include specific measures around foreign language assistants.
Lloyd Anderson, director of British Council Scotland, said: "We are delighted that the number of foreign language assistants working in Scotland's schools is set to increase in the coming academic year.
"However, in numerical terms, this is of course a relatively modest increase. It is clear that much more will need to be done to get numbers back to the levels of six or seven years ago.
"While there is widespread support for the principle of language assistants in schools, we need to look at imaginative solutions to actually get them into the classroom, so that as many young language learners as possible get access to the authentic linguistic and cultural knowledge that only a native speaker can bring."