National Theatre of Scotland's Enquirer is hot off the presses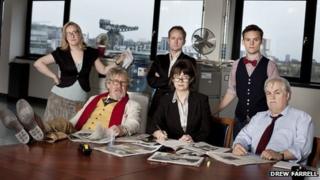 Not since Black Watch has the National Theatre of Scotland created a piece as timely and as relevant.
Enquirer is an exploration of the newspaper industry , through the real life testimony of 43 journalists, which was gathered by three more - Deborah Orr, Ruth Wishart and Paul Flynn - and edited by a fourth, Andrew O'Hagan.
Played out in an empty office space in Glasgow's media quarter, as the Leveson inquiry continues on the news channel above our heads, Enquirer, for those familiar with the industry could be a dull and navel-gazing affair.
But a strong cast - Billy Boyd, Maureen Beattie, John Bett, James Anthony Pearson, Gabriel Quigley and Billy Riddoch - and stylish staging, ensure the audience is never bored.
The interviews are candid and controversial.
Mental health
Billy Riddoch as former Scottish Sun editor Jack Irvine admits payment of police, soldiers, social workers and ambulance drivers was rife across the industry when he was in post.
And that he later destroyed the black book in which he kept details of payments.
Maureen Beattie, perched on a filing cabinet as War correspondent Ros Wynne Jones recalls a massacre she witnessed, which was kept off the pages of her newspaper by the announcement of a royal wedding.
And the impact it had on her own mental health.
There's humour too - a magazine editor recounts an obsessive dream about Brian Ferry, while perched inside a newspaper-filled cupboard, knocking out her copy on a typewriter.
Two newspaper editors decide they should jobshare and apply for director general of the BBC. ("How hard can it be?")
Ironically given the concerns about newspapers failing to keep up with new technology, Enquirer is curiously up to speed.
One scene apparently written two months back, questions Alex Salmond's relationship with Rupert Murdoch.
Just that day, newspapers reported Mr Murdoch being questioned at the Leveson inquiry about whether he accepted theatre tickets from the first minister for a National Theatre of Scotland show (Black Watch, rather than Enquirer).
It's hard not to feel a sense of impending doom about the shame the industry has apparently brought upon itself.
Shredded paper
Tales of journalists prepared to get their stories at any cost loom large.
But so does a tirade from one angry journalist that this once noble profession is being dragged down by a small handful of people.
And do those who read the papers not shoulder some share of the shame?
The industry's inability to keep up with change is also apparent.
Citizen journalism, online editions, rival websites are acknowledged, but largely on the sidelines.
As one journalist points out, her own online blog has more readers than the Independent.
Yet the piece is full of nostalgia for the old ways - the spiked copy, the typewriters, pounding the streets for a story.
Perhaps more a longing for better times in journalism, than the outdated technology it used.
Enquirer comes full circle too, as the papers are put to bed.
Quite literally, as the actors lie down in piles of shredded paper.
As the play draws to a close, we're handed newspaper programmes - apparently hot off the presses that so many of the interviewees said they missed.
In it, director John Tiffany concludes: "It will be the deepest irony of all, one day, if Scottish people wake up in an independent country and find they have to buy an English newspaper to read of their glorious setting."