Queen's Diamond Jubilee visit to Scotland unveiled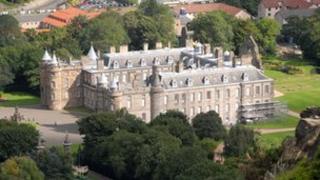 Details of the Queen's engagements during her week-long visit to Scotland later this year have been announced.
Her Majesty, accompanied by the Duke of Edinburgh, will mark her Diamond Jubilee with a series of engagements in Scotland between 2 and 6 July.
Holyrood Week will include an investiture and garden party at the Palace of Holyroodhouse in Edinburgh.
The week will begin with the ancient Ceremony of the Keys in the capital, and also includes a trip to Perth.
During the event the Queen is handed the keys to the city and welcomed to her "ancient and hereditary kingdom of Scotland" by the Lord Provost.
In keeping with tradition, she hands them back, entrusting their safekeeping to the city's elected officials.
The Queen and the Duke will also attend a jubilee thanksgiving service at Glasgow Cathedral, as well as visiting Clydebank and Greenock.
Royal headquarters
She is also due to attend a thistle service and lunch as guest of Knights of the Thistle.
The order represents the highest honour in Scotland and is presented to Scottish people who have held public office or who have contributed in a particular way to national life.
The service celebrates the order, its history and its current members.
The week will end with a visit to Perth, which was awarded city status to mark the jubilee.
Since her accession to the throne in 1952, the Queen has visited Edinburgh nearly every year, briefly setting up home for a week at Holyroodhouse.
For that week it becomes the main working royal headquarters.
The relocation gives the Queen the opportunity to visit parts of the UK furthest from London and to honour Scottish achievements.