Scottish secondary teachers union votes to work-to-rule over pensions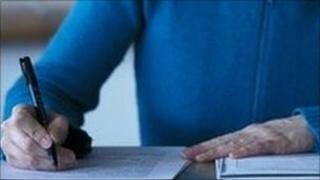 Some teachers at high schools in Scotland are to start working to rule in protest against plans to increase their pension contributions.
Members of the Scottish Secondary Teachers Association (SSTA) voted 85% in favour of limiting their work to the 35 hours specified in their contracts.
General secretary Ann Ballinger stressed there would be no walk-outs or school closures during the action.
The union said UK government proposals were an "attack on teachers' pensions".
The "work-to-contract" is due to begin on 14 May.
Ms Ballinger said: "The proposed changes to public sector pensions amount to an additional tax on public sector workers.
"There are no gold-plated pensions in Scottish education but there are a large number of hard working teachers who contribute towards their retirement.
"The rise in these contributions is already forcing some teachers to abandon the scheme and rely on state provision for their retirement."
Chief Secretary to the Treasury, Danny Alexander, wrote to Scottish Finance Secretary John Swinney in September last year, stating that delays in implementing the pension changes would mean adjustments would have to be made to the Scottish Budget.
Ms Ballinger added: "The letter from Danny Alexander to John Swinney makes clear the intention of the UK Government to ensure that Scottish teachers are treated as badly as their English and Welsh colleagues.
"Any pretence of accepting the right of the Scottish Government to negotiate a deal with public sector workers in Scotland is exposed for what it is by this correspondence."
The Educational Institute of Scotland (EIS), the country's largest teaching union, said it remained "committed to effective industrial action to defend teachers' pensions".
General secretary Larry Flanagan said: "We have been clear that further strike action is likely if neither the Scottish nor the UK Government is prepared to respond positively to our campaign."
He said the union was in discussions with the Scottish government in an attempt to agree a Scottish solution to the issue of teachers' pension arrangements.
The Scottish government said it was committed to public sector pensions which are affordable, sustainable and fair.
A spokesman added: "Discussions with trade unions, including SSTA, and employer group representatives on long-term reforms of public sector pensions have begun.
"These discussions need to be carefully considered but also mindful of the time constraints we face as a result of the limitations set by the UK government."