Fergus Muirhead answers your consumer questions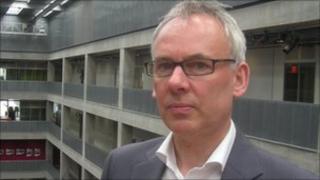 I'm Fergus Muirhead and I'm here to answer any questions you may have about any money or consumer issues.
Please drop me a line here at fergus@bbc.co.uk with your questions.
You can also read more on money and consumer issues on my own blog .
Q. I was watching you on TV today but due to background noise (children) I was unable to hear your advice on pensions. Basically I am 60 years old and can take a pension on my 61st birthday. I have been informed verbally that this pension will be worth approximately £23,000 pa plus a tax free lump sum. I am currently employed and will continue to be so after my 61st birthday. I realise that this pension will be subject to tax but what would be your advice on taking or not taking this pension. John Rennie
A. Two questions here I think John. Firstly, what did I say two weeks ago and secondly what should you do about your own pension situation. Last time I was talking about the fact that you may have pensions coming from two or three different places (personal, occupational or State) but that it may be the case that all of the tax due (since the other point I was discussing was that pensions are taxable) comes from one of the pensions only for ease of administration. As far as your own situation is concerned your question is almost impossible to answer without more information (and I would be happy to do so if you provide it!). Do you want to keep on working? Can you live on £23,000 per annum? Can you take a reduced pension and a bit of tax-free cash, if so do you need cash? What happens if you continue working- do you remain in the pension scheme and build up more benefits or do you have to leave the scheme? Lots of really interesting questions about what it is that you want to do, and you need to think about the answers to these questions (and you may well have done already, it's just that I don't know them) before you can decide the best thing to do with the pension you have built up.
Q. I had to take early retirement three years ago to become carer for my terminally ill wife who died two years ago. My financial adviser set up a drawdown pension based on amalgamating three company pensions. This gives me a monthly income of £870 which I just about survive on. He now informs me that the government are forcing me to take out an annuity next year which will reduce my income substantially. At 61 I'd be almost unemployable, so how will I survive until I get my state pension at 65? Where can I get information on the best annuity for me, as opposed to the ones which will pay the best commission to my adviser? Jim Leith
A. I would start by saying that I am basing this answer only on what is in your question above, but I am not aware of any new legislation that will force you to take out an annuity next year. It is only in the last couple of years that the need to take annuity has been relaxed so it would be strange if it was re-introduced so soon. It has become fairly common in the last couple of years to amalgamate pensions as you have done and take an income from the combined fund rather than 'sell' your fund to an insurance company in return for an income for life, or annuity. Having said that, there may still be reasons why it would be better to buy an annuity. If you decide to go down this route, you should make sure that you have someone research the whole market to find the best annuity rate for your situation. It does sound as if you need to begin by clarifying with your adviser exactly what the situation is regarding your current pension, to find out whether you do in fact 'need' to buy an annuity or whether there are reasons that your adviser thinks make it in your interest to switch from drawdown to annuity.
Q. I am taking ill health retirement from my Employers, RBS Insurance and they have given me two options to choose from. I can either take a yearly pension of £20,000 or take a maximum tax free lump sum of £99,000 and a reduced pension of £14,000 per year. I am also able to reduce the lump sum payment, which will then increase the annual pension figure accordingly. I am 39 years of age and my illness is not life limiting and should not affect my life expectancy. My husband is in full time employment, but his salary is not enough to cover the outgoings per month. We also have a mortgage with £198,000 outstanding against an approximate value of our property of £215,000. We are currently on a fixed rate of 3.78% until August 2012, and looking at new fixed deals. With our current provider the monthly repayment would jump from £848 to approx £1200, which we cannot afford each month. My husband is 43 years old and our repayment term on the mortgage still has 35 years outstanding. Mary Gordon
A. It's an interesting question. The usual response is that you should take the tax-free cash, even if you don't spend it all at once because any pension you take is potentially taxable and it makes sense to have as much tax-free as you can. Having said that, it sounds from what you say, and your email doesn't have all of the information I would need to advise properly, that you are on quite a tight budget and so the extra income might be better for you than a reduced mortgage. You would need to sit down and work out a complete household budget looking at what you currently spend every month and then compare it to your income if you took the bigger pension with no lump sum, remembering to take account or one-off expenses like holidays and insurance, and to factor in the tax you have to pay. Then make an adjustment for your monthly mortgage if you took the lump sum and paid off half of the loan and compared it to your income with the reduced pension. Then decide which set of numbers is better for you! Drop me a line with all of the figures if you think it will help and I'll have a closer look for you.
Q. I've been watching your contributions on BBC News from time to time and in response to the invitation usually extended at the end of the programme, I would welcome some guidance as to the possibility of transferring unused allowance from my wife's income tax assessment to mine, which is bordering on the higher tax rate. My wife is currently 77yrs old and I am 81yrs old. We each have a pension in addition to the State Pension, but her combined pensions (no other income not taxed at source) is well below her allowance before tax and I wondered if that unused allowance could be transferred to alleviate my tax burden. James Humphreys
A. The Married Couple's Allowance is age related and available where one spouse was born before 6th April 1935. So, if my calculations are correct, you should qualify. According to HMRC website, the maximum amount of Married Couple's Allowance is £7,705 and the minimum amount is £2,960 for the 2012-13 tax year. You receive 10% of the allowance amount - which means your tax saving (based on a full year's eligibility) is at least £296 and up to £770.50. So this is certainly worth asking about and you should contact HMRC by telephone or letter to make a claim. What you can also do, of course, is transfer any investments that give rise to income that is taxable, and that are in your name, to your wife on the basis that she won't be taxed on the income, or if she is it will be at a lower rate than the tax you may have to pay.