Drinks giant Diageo apologises over rigged beer award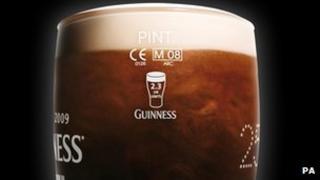 Drinks giant Diageo has apologised after admitting a "serious misjudgement" over the British Institute of Innkeeping (BII) awards.
Diageo staff allegedly told BII Scotland to change one of the winners at their annual event, or risk losing Diageo sponsorship in future years.
The winner of the 'Bar Operator of the Year' award - Aberdeenshire-based BrewDog - was subsequently changed.
The annual BII Scotland awards took place in Glasgow on 6 May.
Diageo's brands include Guinness, Smirnoff vodka and Johnnie Walker whisky.
The award-winners were initially decided by an independent panel.
Brewdog, in an account of the events published on its website, claimed it was told by one of the judges at the awards ceremony: "This simply cannot be, the independent judging panel voted for BrewDog as clear winners of the award."
They also said the new "winner" refused to accept the trophy as it already had "BrewDog" engraved on it.
A statement from Diageo said: "There was a serious misjudgement by Diageo staff at the awards dinner on Sunday evening in relation to the Bar Operator of the Year Award, which does not reflect in anyway Diageo's corporate values and behaviour.
"We would like to apologise unreservedly to BrewDog and to the British Institute of Innkeeping for this error of judgement and we will be contacting both organisations imminently to express our regret for this unfortunate incident."