Lottery funding saves jobs at Gorbals Recycles bike project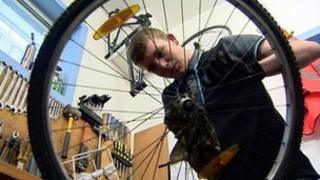 A closure-threatened charity which recycles bicycles is to offer training places to up to 150 people after receiving £411,000 in lottery funding.
Staff at Gorbals Recycles in Glasgow were all on redundancy notices and were working for half pay because of a shortage of funding.
The project is one of three in the city which will share grants totalling more than £1m.
It will receive a total of £411,370 from the Big Lottery Fund.
The cash will secure 10 jobs at Gorbals Recycles for the next three years and enable the charity to expand its training programme.
The organisation builds, refurbishes and sells bikes which have been donated or diverted from landfill.
Training places in the workshop are to be offered to up to 150 people.
Project manager Moyra Morrison said they would go to groups for whom employment is hard to find - including those with learning difficulties, asylum seekers, women and young men.
"The lottery money has enabled us to run our new 'Train to Gain' programme," she said.
"The training placements will help people that are furthest removed from the labour market and help them get into education, work placements and training."
Seventeen-year-old Rhys Murray is already working with the charity in the workshop.
He said it had been hard for him to find work or a training placement since leaving school.
Boost confidence
"I am a trainee mechanic doing repairs and bike builds," he said.
"I would like to move on to become a qualified mechanic, and this has given me a good grounding."
Two other Glasgow charities, supporting vulnerable parents and isolated older people, have also received grants from the Big Lottery Fund.
The Rainbow Care Centre on the south side of the city received £160,779 for its befriending project, which helps 375 isolated older people who have trouble leaving their homes unaccompanied.
The Equal Say for Parents project will receive £520,088 over four years to support disadvantaged families.
Workers will offer training to enable 120 parents boost their confidence and self-esteem by helping them understand child protection issues and their children's needs.