Union says new curriculum for excellence 'poorly handled'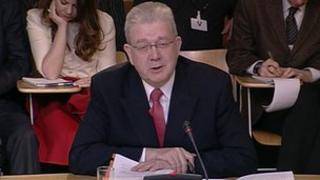 A teaching union has said the introduction of the curriculum for excellence in Scotland's schools has been poorly handled.
The NASUWT has also called for a stay of execution for standard grade exams in Scotland.
The first 54,000 children to sit the replacement National 4 and 5 exams are due to do so in 2014.
The union is due to meet on Thursday in Edinburgh for its annual Scottish conference.
Union President Mike Corbett will tell delegates that the decision to cut supply teachers pay and impose changes on pension provision for union members had severely impacted upon teacher morale.
Mr Corbett said that while he supported the new curriculum - there had been "an alarming lack of clear support and direction for the changes".
He said he was particularly concerned by the workload involved in developing the new lessons and by the absence of a standard way of assessing children's progress.
Speaking ahead of the conference, Mr Corbett delivered a message to Education Secretary Michael Russell.
"If you are serious about trying to raise standards in Scottish education then let us be.
"That means let us be the high quality classroom practitioners we can be; but it also means let us be as in give us peace from confused curricular change, unnecessary bureaucracy and unwarranted assaults on our working conditions."
Three exams
The exam body, the Scottish Qualification's Authority, said delaying the abolition of standard grades was not feasible as it would burden the authority with having to run three different exam courses simultaneously.
A spokeswoman said: "Under the timetable for introduction of the new qualifications it has been agreed, and has been endorsed by the CfE Management Board, that Standard Grades could not continue beyond the academic year 2012/13.
"The new National 4 and 5 qualifications will be introduced in the academic year 2013/14 whilst dual-running alongside the existing Intermediate qualifications.
"Our chief executive made the point very clearly nearly three months ago, when she appeared before the Education and Culture Committee of the Scottish Parliament, that continuing to run Standard Grades alongside the new and Intermediate qualifications would mean triple-running.
"This was not feasible because of the risks this would impose on the system."