Ross Appleyard: 'My nightmares are more graphic than normal'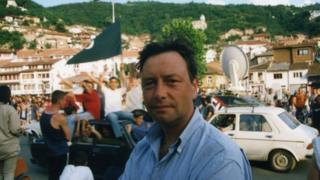 Ross Appleyard lives on a 500-acre rural idyll in remote Argyll but his decade in some of the most brutal parts of the world still comes back to haunt him.
As a Sky News war correspondent he won awards for his reports from Kosovo and was the first reporter into Iraq during the 2003 conflict.
Today, however, he has swapped his flak jacket for an apron as he cooks breakfast for guests at his bed and breakfast on the Kirnan estate near Lochgilphead in Argyll.
He also runs three holiday cottages on his land and is surrounded by pigs, sheep, cows, hens and horses.
Appleyard told BBC Radio Scotland's Stark Talk programme : "I don't think you could find a more peaceful place to recuperate than Argyll, especially on a nice spring day when the sun is shining and everything in the garden is rosy.
"But there is still a dark corner of my mind that will always be in Kosovo and Sierra Leone and Iraq. I don't think there is ever any way of getting away from that."
Appleyard said he thinks he has seen symptoms of post traumatic stress disorder as a result of his "harrowing" experiences.
But he would prefer to have a few beers with fellow war correspondents than undergo professional counselling, which he fears could unleash all the ghosts he has tried hard to contain.
He said: "No-one is immune to the effects of going to places like that.
"I don't think you can put a person into that and they will come out undamaged."
He describes the darkness in his head as "like having a bit of your brain that is foggy all the time".
"My nightmares are a bit more graphic than normal. They will contain sounds and smells that other people would find it hard to imagine."
He walked away from his job at Sky after reporting from Iraq, where his friend Terry Lloyd was killed in 2003.
Appleyard described the highly respected ITN journalist as a "great friend" and "mentor".
He said that for the "first time ever" he had beaten Lloyd to a story by getting over the border into Iraq.
"He went in after me. It was a simple case of we turned left because we wanted to go towards Baghdad.
"Terry and his team turned right towards Basra at the same crossroads we had been at the day before and the Americans opened fire on his vehicle and killed him."
Appleyard said he felt "survivor's guilt" over Lloyd's death.
This was made worse by an ITN colleague of Lloyd's telling him that "Terry went at it like a bull at a fence" after Ross had got into Iraq before him.
He said: "The implication was that because I got in Terry took more risks than he ought to have and I was therefore partly responsible for his death.
"I know that's not true and Terry would have been the first to say, 'Congratulations, mate'.
For Appleyard this was "the beginning of the end" and soon after he quit Sky and started his new life.
He said his two teenage daughters had been beginning to understand what he was doing and how dangerous it was and he did not want to put them through the worry.
He had been a reporter for more than 25 years, getting his first journalist job on the Dundee Courier in 1979, when he was 17.
He had planned to go to university but gave that up to become a cub reporter.
From there he worked at Radio Tay and at radio stations in York and Manchester, as well as BBC Radio One's Newsbeat.
'Missing limbs'
He moved into TV in Birmingham before landing up at Sky News.
In 1999, he was sent to Albania as hundreds of thousands of people fled from Kosovo in the former Yugoslavia.
Appleyard tells of an eight year old boy who survived a massacre by Serb troops by being buried under the dead bodies of his aunts.
As he tried to escape from the house, which had been set alight, he heard the cries of his baby sister.
But the boy was unable to rescue her because he had been shot in the elbow and could not carry her.
"He jumped out of the window and escaped but he said he would always live with the memory of his sister calling his name as he escaped."
Appleyard also reported from Sierra Leone, where a civil war devastated the country until it was brought to an end with the help of UN soldiers in 2002,
There, he witnessed the horrors of child soldiers who were forced to become addicted to drugs before being sent to kill their parents.
He said when they were interviewed "they would switch from being child-like to being warrior-like in seconds".
He said "chopping" was the natural form of punishment.
Those who were deemed to have broken the rules had their arms, feet and hands hacked off.
Appleyard said: "There were just so many people wandering about missing limbs, it became abnormal to see someone who was full-bodied.
Throughout his time in conflict zones, he had a wife and children at home.
He has been married to Diana Appleyard for almost 25 years.
"We got married on the day of the great storm in October 1987 and it has been stormy ever since, but we have survived.
"I am lucky my wife is also a journalist, she understands it a bit better than your average person off the street."
At the age of 45, he gave up war reporting. Soon after, he gave up his 12-acre Oxfordshire farm for the much larger Argyll estate.
"It is a huge house - eight bedrooms. There's three cottages which all have roofs which need to be maintained, they all have to put up with the Argyll winters of the rain and howling gales."
He said that despite having to be resourceful and self-sufficient in conflict zones, he had learned to do DIY maintenance tasks.
However, he has half a finger missing on one hand because he "dropped a trailer on it on the estate".
It is "much more dangerous than Iraq", he said.