Five reasons the Kettle is still Singing after 30 years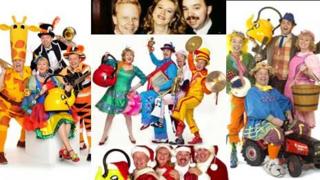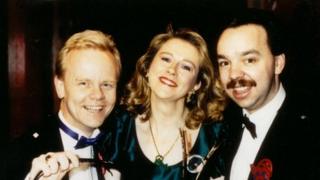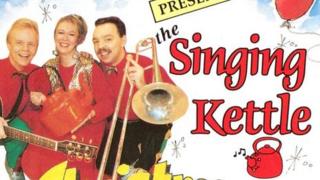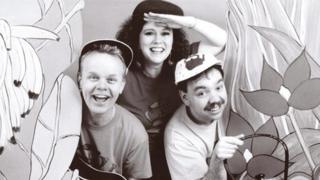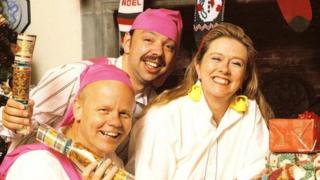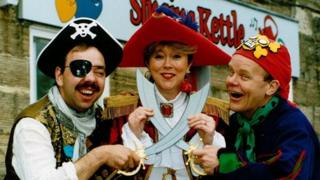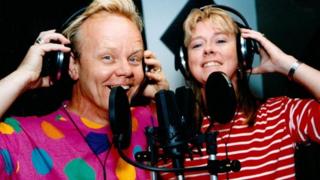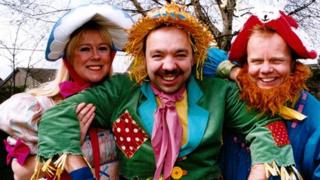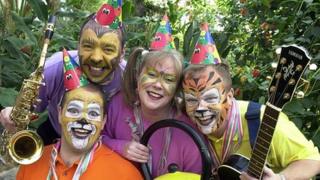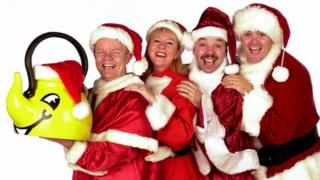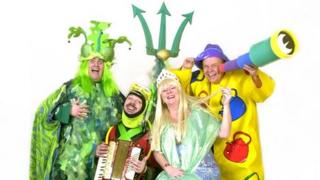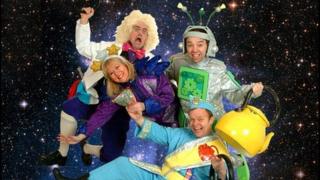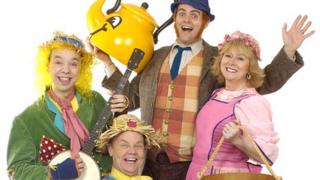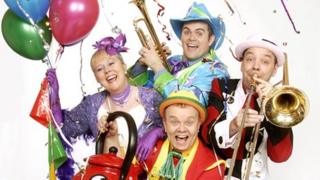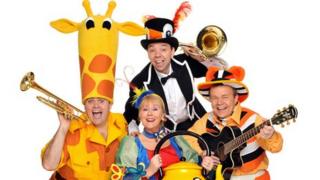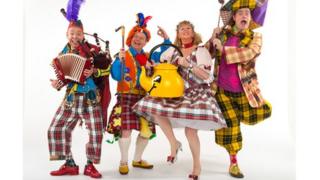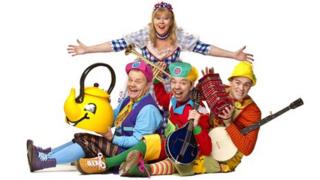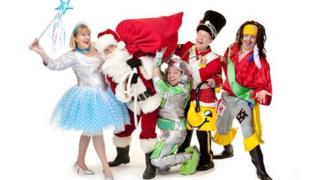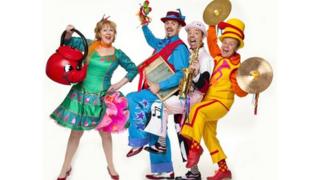 Scottish children's entertainers The Singing Kettle are celebrating 30 years since they began performing. Husband and wife Cilla Fisher and Artie Trezise, who founded the group in 1982, are now of pensionable age but there are no signs of them hanging up their kettle. BBC Radio Scotland's What's Inside the Singing Kettle? looks at the reasons for their continued success.
1. Simplicity
"Spout. Handle. Lid of Metal. What's inside the Singing Kettle?" It is a rhyme familiar to thousands of Scottish parents. Artie and Cilla were award-winning folk singers before they formed the Singing Kettle. Its basic idea was, and still is, to get children singing along. Cilla says it began as a "little show".
"It was to get the kids all round you and get everyone involved," she says. Theatre director Andy Arnold was one of the first to book them and he says the simplicity of the show was its charm.
"There was an almost deliberate amateurism about it," he says. "I still remember it now. I can see Artie in the corner playing his guitar. The place was full of families, it was jammed with really young kids and they were getting people to sing along."
Mr Arnold adds: "I thought this is such a simple show. I never in a million years at the time anticipated that it was going to grow into what it did."
2. It is very Scottish
Despite success in Scotland for 30 years, the Singing Kettle has not been as hot elsewhere. Liz Scott, who was director and then producer of the Singing Kettle television show when it was on the BBC in Scotland in the early 1990s, says executives south of the border "hated it".
She says BBC Scotland brought a network children's commissioner up to see the show but she was "just not interested". Ms Scott says: "She did not think it would travel south of the border. She thought it was too couthie and very Scottish. I suppose it was Scottish but it was entertainment.
I think it could have gone over the border." Ms Scott tells how she went to the Palladium in London which was packed for a Singing Kettle show.
She says: "I got very excited about this - the Singing Kettle had managed to pack out the Palladium. But I stood in the foyer afterwards and I have never heard so many Scottish mothers and fathers and grannies in my life."
3. Parents love it
The Singing Kettle have been around long enough for the children they first entertained to be parents themselves. Cilla thinks it is probably often the parents' decision to go to see the show. "Which probably means the parents enjoy it too," she says.
However, Mr P from the Happy Gang, who were the Singing Kettle's arch rivals for a decade from the mid-90s, says: "It becomes the lazy choice. Here comes the kettles again. It's a familiarity thing."
4. Business brain
Artie is known as a "hard-nosed" businessman, according to Allan Snedden, head of concerts and events at the SECC in Glasgow. On that back of their TV shows, Mr Snedden says the Singing Kettle filled the 700-seat Lomond auditorium for two weeks each Christmas for five years in the mid-90s.
"That's a lot of tickets," he says. "You don't make a success of business like that without having some commercial nous about you. I would ask any parent in Scotland 'Do you have a Singing Kettle DVD in the house?' I bet the answer is 'yes'. 'Do you have a CD in the car?' I bet the answer is 'yes'. That says it all about merchandise sales."
The TV series definitely helped The Singing Kettle's appeal in the 90s. They produced three television series for BBC Scotland despite an often rocky working relationship. Artie complains that it must have been the "lowest budget programme ever made for the BBC".
Producer Liz Scott says: "It was decided, I think by Artie, that the BBC were not promoting them enough and weren't selling the videos. Artie is a great businessman and a complete control freak and thought he could do better in selling his merchandise." The Singing Kettle left the BBC for STV in 1992.
5. They love performing
Gary Coupland, the music man and the Kettle member who appears to get the least limelight, says he loves thinking up new shows. "If we were doing the same songs - like singing 'Yae cannae shove your Granny off a bus' all the time - I wouldnae do it," he says. "But we have to invent new stuff all the time." Kevin Macleod, who was the group's tour manager before taking a starring role a decade ago, says he does not think he will ever get sick of it because he is a big kid himself.
He says: "They pay me to act like a seven-year-old. It does not get much better than that." Although Kevin freely admits that for some some people "it would be their idea of hell".
The Kettle's rivals, the Happy Gang, called it a day in 2005, while they were still 25 years younger than Artie is now. They said they would rather stick cocktail sticks in their body than go back to it.
The Happy Gang's Mr P says: "Fair play to the Singing Kettle, they are still going even though they are 155 years old. But I did not want to be doing it. I was approaching my 40th and I thought: 'This is it. I now have to stop dressing up in giant Kangaroo outfits'."
That does not seem to be a problem for Cilla who claims to be still enjoying herself. And age does not wither her. She says she will be able to continue as long as she does not need a walking frame to get on stage. "I think that would be a bit of a giveaway. People would say 'Ah hen, hang up your kettle'."
BBC Radio Scotland Programmes - What's Inside the Singing Kettle on Monday 21 May at 1405