Call to tackle behaviour issues among Scots five year olds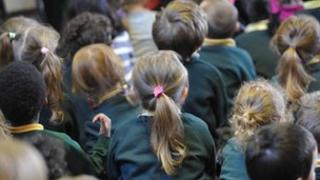 MSPs are being advised to step up investment in services for very young children.
It follows a new report, commissioned by the Scottish government, which uncovered evidence of widespread behaviour problems among five year olds.
Based on the key findings of a long term survey of 10,000 children, the report said: "The most common type of difficulty is conduct problems - just over one quarter of five year olds have moderate or severe difficulties in this area."
The document, called Growing Up in Scotland - Key Messages, linked behaviour issues to children's health and the way they are cared for.
And it suggested children do better if parents establish consistent rules and routines and make time for shared activities, such as reading and singing.
Aileen Campbell, the minister for children and young people, said the findings would help ministers define what makes the best start in life for youngsters and how best to achieve that.
She said: "The Scottish government wants our country to be the best place for children to grow up and studies such as Growing up in Scotland provide uniquely Scottish information to help realise that vision."
The minister added: "This government is committed to supporting children and families and recognises that getting it right in the early years is essential.
"These findings will be hugely helpful to us as well as our partners working across the early years in Scotland.''
Researchers indicated that the amount of money coming into the home was not a determining factor when it came to children's behaviour.
"Growing Up in Scotland suggests that low income in itself does not have a direct negative impact on children's development, but poverty is related to other disadvantages, which together can have a negative impact on children's well being," the report said.
'Disadvantaged circumstances'
And researchers indicated that troubled children not only face an uncertain outcome but have an impact on teachers and classmates.
Most children in Scotland are growing up healthy and happy, the report stated.
"However, a significant minority of children are not.
"Too many children in Scotland are not getting the best start in life that they are entitled to because they are growing up in disadvantaged circumstances that are not promoting good health and development."
Stating that sustained and increased investment in services for the very young is "fundamental in tackling inequalities in Scotland", the report added: "Some children are arriving at pre-school and school ill-equipped to deal with the daily challenges of learning and being part of a school community."
It added that one in 10 children starting school has some type of social, emotional or behavioural difficulty.
And it highlighted further research from the commission on the Future Delivery of Public Services, which makes the case for more funds for prevention.
The report suggested that 40% of all spending on public services is accounted for by interventions - that could have been avoided by prioritising a preventative approach.
The head of the high profile Violence Reduction Unit based within Strathclyde Police said he backed the call for directing more funds to services for the very young.
Det Chf Supt John Carnochan said: "The truth is that one of the most successful industries over the last two to three decades has been higher education.
"Everybody does continual professional development. We do degrees in everything - policing, nursing, for prison officers. That's fine but it can't be at the cost of other things.
"The public purse means we have to spread the money out more evenly, be biased towards the early years, and by that I mean from age zero, birth."
He called for more resources to be spent on identifying and supporting parents who are inexperienced or have problems with poverty, drink, drugs or violence.
And he called for more money to be spent on high quality care and play schemes to enable children to flourish.