Scottish proceeds of crime seizures exceed £10.5m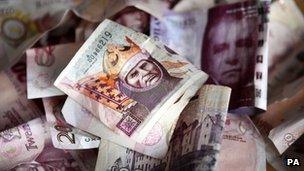 More than £10.5m worth of proceeds of crime has been recovered in the past year in Scotland, the Solicitor General Lesley Thomson QC has announced.
Prosecutors secured confiscation orders worth more than £7m against convicted drug dealers, money launderers and fraudsters during 2011/12.
The Civil Recovery Unit recovered more than £3.5m during the same period.
Ms Thomson said the disruption caused to criminal groups was as important as the money that had been seized.
The amount recovered in the past year takes the total secured since the start of the Proceeds of Crime Act in 2003 to more than £69m.
The money has been reinvested across Scotland via the CashBack for Communities programme.
This year's cash recovery was described as a "great achievement" by the solicitor general.
"Depriving criminals of their money and assets can significantly disrupt their activities, prevent them from reinvesting their profits, and make it difficult for them to carry out their criminal enterprises," she said.
"When the money and assets go so does the status and power.
"There is no place in Scotland for those who want a lifestyle funded by crime."
Lindsey Miller, head of the Serious and Organised Crime Division (SOCD) of the Crown Office and Procurator Fiscal service, said proceeds of crime legislation was a "powerful tool" in the fight against crime in Scotland and their priority remained "disrupting and dismantling criminal enterprises".
Justice Secretary Kenny MacAskill also welcomed the results.
"Criminals don't contribute to our communities, they live off them and serious organised crime has an impact on everyone in Scotland, harming communities and legitimate businesses through drugs, extortion and counterfeit goods," he said.
"That is exactly why cash seized under the Proceeds of Crime Act should be used to benefit communities which have suffered from criminal acts."
Related Internet Links
The BBC is not responsible for the content of external sites.