Big bit of hill, and Glen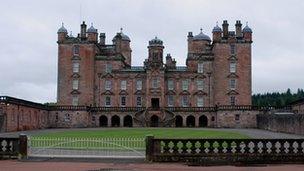 Like leaping four centuries in one go: that's the reflection of John Glen, on the four years since he took over as chief executive of The Buccleuch Group.
Radical measures were needed, only weeks after he took on the job. The financial crisis pitched the Duke of Buccleuch's property portfolio into big losses: £18m on a turnover of £65m.
Only last month did the business return to a modest, £700,000 profit.
And it's been an interesting case study of a turnaround, particularly when seen from the perspective of a chief executive who didn't arrive at his office near Selkirk with a background of huntin', shootin' 'n' fishin'. Indeed, he doesn't shoot at all, but he's learned a thing or two about grouse moor management.
John Glen is a Scot who had taken his accountancy skills overseas, working on Unilever's household goods, and in a French company that's one of the world's biggest suppliers of industrial gases.
The Buccleuch Group looked like an interesting challenge that could bring him and his young family back to Scotland, to manage an estate that had its roots in the Scottish Borders going back seven centuries.
Through marriage, the Dukes of Buccleuch picked up estates with four stately homes in Dalkeith (now leased to the University of Wisconsin), Drumlanrig in Dumfriesshire, Bowhill near Selkirk and Boughton, which was once the Montagu family's seat, near Corby.
But it was debt-laden moves into other commercial property that led to the losses.
John Glen had to turn around a business by stopping what he calls "the leaky buckets" while setting out on a new course.
Those buckets included sale of some under-performing assets in animal feed, while 30 jobs went in Dumfries when meat processing was merged with Campbell Brothers in Midlothian. In-hand farmland was turned over to a combination of existing tenants and newcomers.
The property portfolio is being run off when prices allow, while residential in London and Aberdeen is helping nurse that part of the business back to health.
But then, Glen had to start on the extraordinary challenge of taking a near-feudal relationship between his bosses (the board of directors includes a duke, a duchess, an earl and two lords) and employees who, he argues, were too dependent.
"We needed to take the relationship between employees and employer almost from the 17th century to the 21st century in one go," he told me.
"We had a culture of old-fashioned dependency. We had 170 employees on the estate (with more coming in on a seasonal basis). Of them, 124 were in tied accommodation. Seventy of the 124 were entitled to free accommodation in retirement.
"All of these were constructed in such a way that if you lost your job, it was like falling off a cliff. You lost your house, your heating, your council tax. It was a huge dependency, so very little turnover of staff."
It was also very complex to manage. Some estate workers had dog food supplied in lieu of some pay.
John Glen continued: "Where you have that culture, where people are not taking responsibility for their life, it's very difficult to encourage them to undertake new things.
"So the first thing we had to do was to bring the benefits relationship into the 21st century, give people the ability to manage their own lives, make their own choices. Having done that, we said: 'Let's try some new things, and if they don't work, it's not the end of the world'."
To aristocratic families, stately homes can be an expensive burden. Estate income has to be directed to keeping them at least watertight.
Buccleuch's chief executive sees them as an opportunity for improving some income, though they're not a central part of the business. To him, the resources to maintain them is not a business expense so much as the dividend he provides to his shareholder.
And those four big houses are only part of the maintenance challenge. He has to look after around a thousand houses on an estate of 400 square miles - four times the area of Edinburgh.
But in the recovery plan, there are hopes of exploiting some more unusual resources from the vast estates. Biomass is becoming an area of expertise, not only providing the raw material, but installing the burners - for instance, to Aberdeen Royal Infirmary.
Boughton estate in Northamptonshire has big development opportunities, as the government has earmarked that area for greenfield building.
And in Langholm, on the Scotland-England border, a large area given over to scientific research into moorland and birdlife, is mixed with big potential for opencast mining and coal bed methane. Conveniently, the natural gas pipeline into England runs through the estate.
Underground coal gassification could follow, as the technology develops. And he might be able to persuade a sceptical board of directors to invest in wind power too.
Developments like that won't be without their objectors. But they may give the Buccleuch family the means to keep going in the aristocracy and stately home business for a century or two more.
The interview with John Glen, also including his views on landowners' image and relations with Holyrood, can be heard again on BBC Radio Scotland's Business Scotland programme, available to hear again on BBC iPlayer and by free download.
Related Internet Links
The BBC is not responsible for the content of external sites.