Public vote in competition to decide Scottish Album of the Year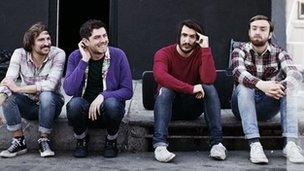 Members of the public are getting a chance to vote for their favourite Scottish album of 2011.
Last month a long-list of the 20 titles in the running for the award was announced by the Scottish Music Industry Association (SMIA).
The Scottish Album of the Year (Say) prize is a new award billed as the equivalent of the prestigious Mercury Music Prize.
Music fans will be able to go online for 24 hours and have their say.
They can vote for their favourite on the Scottish Album of the Year award website and through a specially designed app.
The long-list was drawn up by 100 "nominators", including music journalists, bloggers, radio presenters, promoters, venues, club DJs, festival organisers, academics and music fans.
The SMIA said it featured an eclectic range of albums and artists and provided a diverse snapshot of Scotland's musical landscape.
Mogwai, Bill Wells and Aidan Moffat, Twin Atlantic, FOUND, Mungo's Hi-Fi, Tommy Smith and Rustie are among those on the list.
The £20,000 prize fund puts it on a par with the Mercury Music Prize and the Turner art prize.
During the past four weeks, music fans have been able to listen to all 20 long-listed albums online.
A shortlist will be announced later this week, with public's choice guaranteed a slot.
The winning album will be announced at a ceremony in Glasgow in June.
The nine runners-up will each receive £1,000.
Related Internet Links
The BBC is not responsible for the content of external sites.