Energy's copper bottom future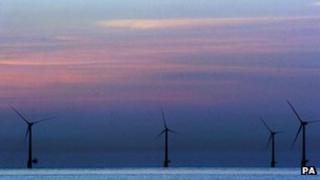 It's previously been better known for its prawns and haddock. And now it's where technology, the economy, the environment and politics meet, on the bed of the North Sea between Peterhead and Bergen.
This is also one of the places that Europe is changing most. And at roughly £1.5bn for this one project, it's quite a challenge for the finance director.
We're talking North Connect, the five-company, three-country consortium that plans to put a large amount of copper across the North Sea. I spent Monday in a rain-drenched Bergen, finding out more about it - as, indeed, did the first minister.
And what we've learned is that this is now on track to open for electrical traffic in 2020 or 2021. And it's reckoned this will be the first of two such High Voltage Direct Current (HVDC) cables between Norway and the UK, with the potential for injection points across the North Sea, where it can link into the giant wind farms being built there.
Pump and splash
There's already a Norway-Netherlands link, and one linking across the Baltic to Sweden and Denmark.
The Peterhead connection is unusual in its large capacity, at 1,400 megawatts, and also for its intended two-way traffic. By taking wind power from Scotland when it's in surplus - typically that'll be overnight - it can pump water uphill in Norway's extensive network of hydro stations.
Norway learned from Scotland how to do hydro, and then took to it with vigour. That infrastructure can deliver more efficiently than Scotland, as much of the flow is from glacial melt, whereas Scotland relies on variable rainfall and run-of-river generation, with only a limited amount of pump storage capacity. It may yet build more, but it's much easier and probably cheaper to connect to those who already have the kit in place.
So come the morning, when you switch on the kettle, the sluice gates open, the direct current reverses, and Norwegian hydro will be heating your coffee.
Cable cost
Odd Oygarden, chairman of North Connect, points out that it only works where there's a difference in price, and that price can keep fluctuating through the day.
He also watches carefully as the price of copper keeps rising. These cables are very, very big in copper.
This is technology's way of ironing out price differences across Europe, which means price spikes should be reduced. It's also a means of integrating the European energy market.
The UK island mindset is that you need to produce power in your own country. That's why there's an assumption for many that a shortfall in wind power must be backed up by base load supply.
That's true. There must be back-up. But the back-up may be in a different part of Europe - whether a French nuclear plant, Norwegian hydro or Spanish solar.
And that answers the big question nagging away at the big push for wind power in Britain. If the cables are in place to export it into continental markets, then they're also in place to import it when Britain's becalmed. And in the case of Norway's pump storage, you can put away some surplus for what you might call a rainy day.
Solar soars
All this seemed fanciful a few years ago. Yet the next eight years or so should also see a big link laid along the seabed from Norway into Germany. And this month, UK Energy Minister Charles Hendry is going to Reyjkavik to discuss the potential for the longest link of all, bringing geothermal power into the UK and European network from Iceland.
Last month, it was announced that Mediterranean countries are creating a multi-national grid, not only across European countries, but opening up the potential for solar energy from the desert of North Africa to be connected into the population centres to the north.
As I've noted before, the unit price of solar power has been falling fast. And such integration has to raise questions of whether it will eventually undercut the pricey business of putting big wind turbines out at sea on big metal jackets.
All this ought to be great news for Norway, sitting on one of the world's biggest hydro capacities. Hydro produces nearly all the electricity it needs over the course of a year, though it is long used to trading with its Nordic neighbours' nuclear and fossil fuel plants when hydro falls short. It has oriented its energy use heavily towards electricity, including much of its heating.
Yet at a conference in Bergen on Monday, there was a strange lack of confidence about its future in renewables. Norway is ahead in carbon sequestration technology, and it was Norwegians who devised the tidal turbine device that's been on trial off Orkney, for Scottish Power and Iberdrola. This is also the country with a vast pension fund and its own, highly successful state energy company, Statoil, with the resources to invest in technology.
Yet Alex Salmond was the one in Bergen notable for his optimism about green power, emphasising how much Norway and Scotland could do together.
The Norwegians taking part worried that a lack of political leadership had let Norway fall behind, allied to a national mindset that's become addicted, they fear, to oil and gas.