Campaign to recognise WWII Arctic convoy veterans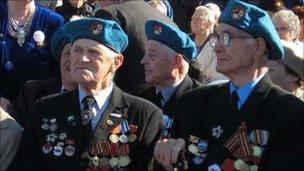 Veterans Minister Keith Brown has joined calls for official recognition for sailors who took part in Arctic convoys during the Second World War.
He is due to meet some of the surviving Scottish sailors who risked their lives delivering vital supplies to Russia.
Their ships sailed from Loch Ewe in the north west Highlands to re-supply the Soviet ports of Murmansk and Archangel.
Men involved in the campaign are trying to persuade the UK government to award them a special medal.
The Ministry of Defence has said several thousand who served on the Arctic Convoys had already received the Atlantic Star campaign medal, which was awarded for service in the Atlantic and home waters.
A spokesman added: "We have enormous admiration and respect for this very special group of men who served our country in conditions that are quite unimaginable to us today.
"Those who served on the Arctic Convoys have received recognition in the form of medals.
"At the time, they were awarded the Atlantic Star - one of the main British campaign medals of the Second World War.
"An independent review is currently under way looking at the rules and principles governing the award of military campaign medals."
As well as meeting veterans, Mr Brown will also meet representatives from the Russian Consulate on Tuesday.
Speaking ahead of the event, Mr Brown said: "Serving aboard the Arctic convoys must have demanded huge courage and dedication.
"These men faced the dangers of U-boats and air attack in some of the worst weather conditions on the planet.
"Yet, through unwavering service to their country, these heroes ensured absolutely crucial supplies reached Russia.
"Without their efforts, Russia could easily have become cut off and the whole outcome of the war could have been different."
Between 1941 and 1945, 78 convoys risked attacks from Nazi U-boats and aircraft, on what Winston Churchill called the "worst journey in the world."
More than 3,000 seamen taking part in Operation Dervish died.
Among those campaigning for full recognition for those involved in the Arctic convoys is 84-year-old Jock Dempster.
He lied about his age so he could sail on a tanker taking fuel to Murmansk.
He told BBC Scotland: "We played a critical role and the Russians never cease telling us we played a critical role. It's more than our own successive governments have done.
"They freely admire us for all we have done, they can't thank us enough."
He added: "Other people received campaign medals for campaigns they were on. Ours was a really important campaign. The supplies we took up were vital."
Mr Dempster said that the strength of feeling among veterans meant the issue was becoming more urgent.
He said: "Sad to say, we're dying off very rapidly, our numbers are going down. Every day I get word that two or three more have died off.
"We're just human beings after all.
"The ones I feel sorry for are the families. The families at the moment do not have a medal of that campaign to pass on to the grandchildren, that's what annoys me more than anything else."
Related Internet Links
The BBC is not responsible for the content of external sites.