Scientists to survey Scotland's coral reefs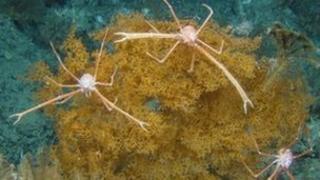 International scientists will set out on a month-long voyage to survey Scotland's coral reefs.
The team hope to discover whether Scotland's cold-water corals will die out within 100 years or whether they will adapt and survive.
Scientists believe increased carbon dioxide levels in the sea have altered the ecosystem - making it more acidic.
The Changing Oceans expedition is part of a £12m UK-wide study on how best to protect oceans in the future.
The expedition is being led by Dr Murray Roberts, a professor of marine biology at Heriot-Watt University.
He said: "For Scotland's coral reefs the key questions are: will these changes in sea water chemistry make it impossible for corals to grow, or can they somehow adapt to changing conditions and survive?"
"We need to learn more about how these corals will react to the changes, by studying how they survive now, and by doing laboratory experiments to see how they respond to different conditions."
Robotic submarines
Stewart Stevenson, minister for the environment and climate change said: "It's less than 10 years since the discovery of the Mingulay coral reefs by a team also led by Professor Roberts.
"Since then understanding of this marine ecosystem has developed considerably."
The research team will travel aboard the Royal Research Ship James Cook.
In the month-long sea voyage the scientists will visit a number of sites in UK, Irish and international waters.
They will use remote-controlled underwater vehicles to film the cold water reefs.
Off the coast of Scotland, the team will visit several sites including the shallow reefs off Mingulay and the deeper reefs on Rockall Bank and the Logachev Mounds.
At the start of the voyage school children will visit the ship to watch the robotic submarines explore the coral reefs growing on the Hebridean seabed.