Salmon firm Marine Harvest to invest £80m in Scottish fish farming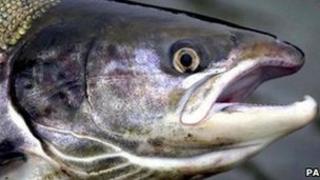 The world's biggest producer of farmed salmon has announced plans to invest £80m in its Scottish operations over the next five years.
Marine Harvest, based in Norway, said the move should lead to 100 more jobs in the sector.
The fish farming industry is an important employer in several of the more remote communities in western Scotland and the northern isles.
The firm wants to invest in new farms and processing facilities.
The announcement came at the end of First Minister Alex Salmond's two-day visit to Norway.
He met with Marine Harvest chairman, Ole Eirik Leroy, in Oslo on Tuesday.
The salmon farming industry is automating more production, but has been growing strongly, particularly in exports.
At their meeting Mr Salmond and Mr Leroy discussed plans to invest £80m in new farms and processing facilities to help achieve the target of boosting production by half in the seven years to 2016, reaching 60,000 tonnes of salmon a year.
Mr Leroy told BBC Scotland: "We are operating in 21 countries and Scotland comes out third when it comes to size but number one when it comes to profitability.
"Based on the very, very good results we have seen lately we have a strong investment plan.
"We are planning to create a least 100 new jobs."
Figures from HM Revenue and Customs, published in April, showed exports of fresh Scottish salmon had leapt to record levels for the second consecutive year.