Obituary: George Wyllie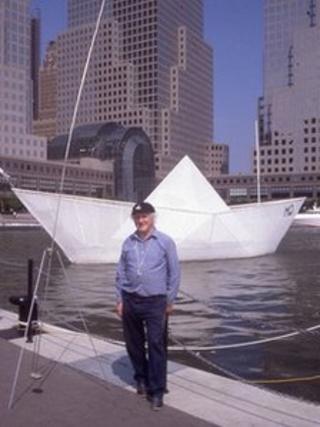 George Ralston Wyllie was born in Shettleston, Glasgow on Hogmanay, 1921.
He was known to his family and friends as Ralston, until he decided to become an artist in his late 40s.
In his artist persona, he was George, but to close family and friends, he was still Ralston.
Wyllie and his younger brother Banks, grew up in the Craigton area of Glasgow, where their parents, Andrew and Harriet moved when Wyllie was a boy.
The brothers were brought up in the shadow of the shipyards. Wyllie later described himself as being "disadvantaged by a happy childhood".
His first job was as an office boy in a shipping company in Govan. He then trained as an engineer with the Post Office before joining the Royal Navy at the beginning of World War II.
During active service, Wyllie visited Hiroshima and saw for himself the impact of the atomic bomb. The experience was to have a profound effect on his life, and later on his work as an artist.
Wyllie's self-proclaimed status as "the best bogie-builder in Cardonald" as well as his burgeoning musical and dancing talent hinted at an early creativity.
After the war and marriage to his beloved Daphne, he worked as a customs and excise officer in Glasgow, Prestwick, and Ireland before settling in Gourock, where his two daughters, Louise and Elaine, were brought up.
Although it had always been in the background, he "decided it was time for art" in 1965, and attended a local college in Greenock to learn how to weld.
One of the first ever pieces of artwork he sold was to Ferguson's shipyard in Greenock.
He left the customs service in 1979, at the age of 58, and entered into a four-decade long late-flowering career as an artist.
'Great art release'
In the 1980s, through the late Barbara Grigor, a champion of many a Scottish artist, Wyllie met the American kinetic artist, George Rickey, who invited him to work with him in America.
He later described this experience as a "great art release". He was also hugely influenced by the German artist, Joseph Beuys, after meeting him through Edinburgh gallery owner, Richard Demarco.
Wyllie's award-winning play about the iniquities of the world banking system, A Day Down a Goldmine, was produced several times throughout the 1980s.
The two-handed play featured Wyllie as a character called His Assistant alongside acclaimed actors such as Russell Hunter and Bill Paterson.
In 1987, he attracted international attention with his Straw Locomotive, which hung from the Finnieston crane in Glasgow before being burned in nearby Springburn in a Viking-style funeral.
Two years later, his Paper Boat was seen by millions as it sailed around the world from Glasgow to New York and back to Scotland. It made it onto the front page of the Wall Street Journal, when it berthed at the World Financial Center in New York in 1990.
Wyllie's daughters, Louise Wyllie and Elaine Aitken, set up The Friends of George Wyllie, after their father went into a care home in Greenock in 2011.
Friends, or 'Chums' of George include his old friends, artists Dawson and Liz Murray, Neil Baxter, of the Scottish architecture body, the RIAS and filmmaker, Murray Grigor, whose award-winning film 1990 film about Wyllie, The Why?s Man, has recently been re-released on DVD.
George Wyllie was predeceased by his wife Daphne, who died in 2004. He is survived by daughters Louise Wyllie and Elaine Aitken, as well as grandsons, Calvin and Lewis, and granddaughter, Jennifer.