Scottish universities review Curriculum for Excellence policy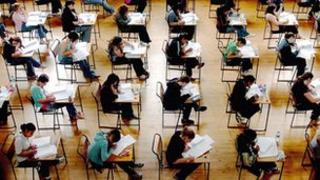 Scottish universities are to review their admissions policies following a shake-up of the school curriculum.
The principals of Scotland's 19 institutions said new course choices for pupils will not harm their chances of going on to higher education.
The pledge was made in a report which looks at the impact of the new Curriculum for Excellence (CfE).
It said candidates will be treated equally regardless of the route they take through secondary school.
Under the new curriculum, fewer pupils are likely to sit eight exams in fourth year and four or five Highers in fifth year.
Varying the pace, level and number of exam courses is designed to discourage pupils from skating over the surface of subjects.
But parents have been concerned that fewer exam passes in fifth year could mean their children lose out to the competition for university places.
Universities have agreed to look at their admission policies and reaffirmed that with some pupils they will not focus wholly on results in fifth year.
'Early reassurance'
Professor Petra Wand, principal of Queen Margaret University Edinburgh, said: "New qualifications and far greater diversity in how learners can achieve them will mean an increasingly complex responsibility rests on university admissions to ensure pupils are treated fairly and equally.
"But I am confident that we will rise to the challenge. Universities already admit students from across the globe, each of whom apply with different qualifications.
"It is important that universities are able to give schools, parents and pupils at home in Scotland the same clear and early reassurance."
To ensure a fair admissions policy, university leaders said they will review practice in each institution.
The Beyond the Senior Phase report, which has been published by Universities Scotland, states: "University leaders commit themselves to a review of admissions policy and practice within each of their institutions, to ensure that they will be able to give fair and equal consideration to candidates who have followed diverse routes to qualification through the senior phase."
The Scottish Parent Teacher Council said families may be heartened by the review, but warned there was no guarantee that admission policies will change.
Robin Parker, president of the National Union of Students Scotland, said the report and its recommendations were a "particularly welcome and timely plan".
But he added: "In order to give proper 'fair and equal consideration' to students, as the report suggests, we can't just rely on paper qualifications.
"Despite the myths surrounding it, there is plenty of evidence to suggest that when admissions policies take into account the wider context of a student's background those admitted have just as much potential to succeed as students entering through more traditional routes.
"Ultimately, we want to see universities place as much emphasis on future potential as current attainment. This report is a really positive first step in that process, and we would look forward to working with universities to carry on and develop it."